How to Create Virtual Office for Remote Teams?
The internet has made working remotely easier and more effective. However, there are some limitations for teams that work remotely. These limitations have been addressed with the introduction of virtual offices. This article is a composition of fifteen tips on how to build an effective virtual office for teams that work remotely.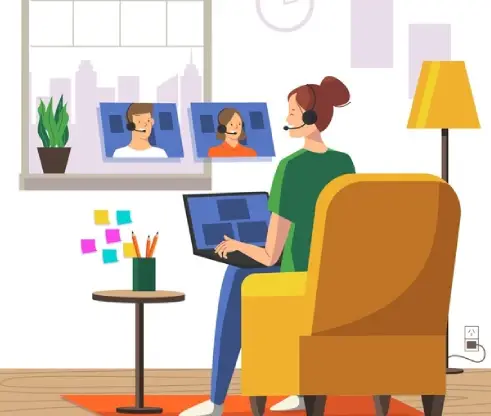 Traditionally, businesses are usually run at a centralized location, but with the advent of automation and cloud-based services, businesses have upgraded and taken their processes online. Running a business online requires a lot of combined effort to be carried out successfully. Business owners have varying views regarding working remotely.
In the face of the overbearing comparison between both business setups, workforce strategy consultant Ken Matos cleared the air on his views and emphasized the value of working remotely; he said, "People today really value workplace flexibility and remote work because it allows them to focus their energies on work and life as opposed to commuting." A greater number of managers agree that although working remotely greatly reduces cost, it has more psychological and less technical limitations. As a project manager or a team leader, how can you track if an employee can competently self-manage their time? How can you ensure the punctual delivery of products and services when your employees are miles away from you? A solution has been provided for these problems.
This is achieved by remotely setting up a network to connect the working devices and then tracking the activities being carried out using a principal device. This setup is referred to as a Virtual Office. A virtual office is a cloud-based location where the owner or manager of the business, the employees and the customers can interact remotely over the internet. This can only be achieved using a virtual phone system.
How does a Virtual Office Work?
A virtual office provides access to information and business data to users depending on the hierarchical permissions granted to each user. This way, the manager is granted total access to relevant information while the employees are allowed to access working files relevant to their respective offices and then the customers are limited to accessing customer engagement platforms.
To properly understand the working principle of virtual offices, let's begin with the primary elements that constitute efficient work before advancing to the complex technical aspects. These primary aspects that make up the remote working system include:
A. Primary Virtual Office Location: Although remote working is all about rendering services online, the actual workspace where each worker stays to work and the devices in use matter a lot.
B. Basic Expenditure: This refers to the elementary expenses that are made to set up and run the virtual office. This covers the money spent to secure a comfortable workspace, high-speed internet connectivity, reliable mobile devices and the relevant software solutions that will be used to automate the business processes.
As soon as you are ready to work remotely, the most effective way to automate team effort seamlessly is by hiring the service of a great virtual phone system. With this, you can ensure the free flow of information and data amongst your employees, and with good management, you can maintain a healthy work rate and good customer experiences.
15 Tips to Build a Virtual Office for Your Remote Team
Always be available to receive remote reports; When you and your staff work remotely, especially for a new team, your employees may not know how to write reports accurately. Seek for methods with which you can open up channels using a virtual phone system for spontaneous communication. Always try to let your team members know when you are around and that you're always available to work with them.

Make time for informal bonding in your virtual meetings; it requires more time to personally know each other in a virtual workplace when you never sit physically as a team to discuss. This way, the team will not have adequate trust in each other. Informal meetings can serve as a medium to build healthy team collaboration spirit in team members.

Activity planning and scheduling: There should always be a time set out for activity planning and assigning of roles in a remote team setting. A good business manager must take out time to handle the strategic aspect of the business. In a remote business, since physical contact is not abundant, the business activities will have to be carried out over the internet.

Always show gratitude to your team for their services; Any remote business manager should regularize this practice, even for the traditionally run businesses. It is very important to appreciate patronage for your business by thanking staff members and customers for achieving milestones, especially when you don't see them face-to-face all the time.

Employ the services of a very good virtual phone system; Your virtual phone system is required to integrate with a lot of business process management software solutions to make the exchange of data and information more easily. Since the business is run remotely, your virtual phone system must be able to project a good image for the business organization while automating the business processes. The efficiency of a business handled remotely relies on the virtual phone system in use.

Build an intranet. Since your employees work remotely from various locations, great communication is key to a successful business endeavor. Installing an intranet will bolster communication and create a sense of togetherness amongst the members of your remote team at the same time. It creates a connection in your virtual team and makes it even easier to share information within the team.

Make out time for team-building events; Meeting physically with your employees creates a sense of follower-ship in them. Your employees always want to know that they are not alone and that their leader cares greatly about them. You can invite them for an informal event at your house, maybe at the end of a successful project or when the team achieves a milestone together.

Employ the services of a virtual secretary; A virtual secretary refers to a person or a group of persons who work off-site (still connected through the same virtual phone system as the other employees), their task is to give callers the impression that they are answering calls at a company location. Virtual secretaries answer phone calls, book appointments, and convey messages whenever they are called upon.

Promote frequent communication amongst team members; As a team leader, you have to instill the spirit of communication and open-mindedness in your employees in order for them to communicate relevant suggestions to you freely. You can even go as far as promoting healthy informal connections with each member of the team while still maintaining a statute of leadership.

Play the leadership role very effectively; You have to maintain a fairly strict leadership role to lead your virtual team. Always clearly emphasize your expectations from everyone while communicating with them. Ensure that they abide by your policies and keep to them as well as the conditions you set for your work.

Take care of your payroll professionally; Treat payroll as professionally as you would do it in a traditional office. The payment methods and the pricing should be handled delicately to maintain a good relationship with your employees and business partners.

Always organize a meet and greet for your new hires; Whenever a physical meeting is possible, meet with your employees and consultants in person before bringing them on board. During these meetings, you can instil the business' unique working ethics in them. Not everyone can work without supervision, and it takes a special temperament for an individual to competently work remotely, so you have to make sure they have the right mindset during this meeting. You may also need to determine whether they have a dedicated working space at home and the necessary devices.

Practice cordiality in customer relations; An eCommerce website can be used to create and portray an image for your remotely-run business. You can include relevant information about your virtual team members, a description of your team aims and objectives, details of how you can plan on accomplishing feats and rendering quality services. All this information is aimed at attracting prospective customers and making already loyal customers feel even better.

Handle marketing and customer relations properly; Always take public relations and marketing endeavours very seriously for optimized results. This is critical to the success of your remote business. You have to convey to customers that you offer the best solution to the challenges they face. And don't make apologies for working at home.

Digital marketing; In a remotely run business where the services are carried out online, digital marketing can only achieve an advertisement. Properly handling digital marketing endeavors can create a perfect image for the company. In turn, sales and productivity will be optimized.
What are the Advantages and Disadvantages of a Virtual Office?
Building a virtual office is appealing to business owners, and two factors control the attraction. The first is that the monthly running cost of a virtual office is less than that of a traditional office by a lot. This is because it requires little or no maintenance and installation costs, and it is automated, which means it doesn't require staff to handle it. Furthermore, a virtual office can also be secured on a monthly lease, providing space for flexibility.
Secondly, a virtual office provides a mailing address, telephone interaction, and videoconferencing services. Due to the use of these online services on a virtual phone system, a small business can appear larger than its actual size. It also provides a physical address (which is usually not a single location) for the users to meet with clients. On some occasions, the address provides a sense of prestige to the owner of the virtual office. This prestige is more if the address is a widely known location or the virtual business phone system is properly used to bolster customer experience.
Most services offered by a virtual office setup require prior planning to materialize. For instance, some software packages are sold with limited use of conference rooms or limited teleconferencing and videoconferencing services to subscribe for more. Some users see the absence of flexibility as an inconvenient limitation. More deterently, the system is prone to distractions that come with working at your own pace unsupervised. This is why there is variance in the productivity level of the team members, as some workers work better in an office environment.
Conclusion
Running business processes remotely is a very lucrative idea for any business to adopt. The problems faced by businesses that employ remote staff can be solved by building a virtual office for the team and properly handling remote communication services using a reliable virtual phone system.
The virtual phone system in use can greatly affect the entire result of the team effort. Consider using PBXPlus for your virtual office as it offers top notch technicality and speedy response. For more information about PBXPlus, check the website.
What Makes the Best Business Phone System?