Who Should Use Virtual PBX System?
There's a diversified range of businesses that use virtual PBX software. In a nutshell, considering its benefits and flexibility, virtual PBX software is the first choice for small and medium enterprises. No wonder, PBX software is becoming more and more popular in the start-up culture.
Usually, companies that need to deploy a department where direct one-to-one contact is important between the company reps and customers are the ones who use PBX software.
There's a wide range of industries where virtual PBX software is being used
Travel
Hospitality
Healthcare
Retail
Government and Public Sector
Banking & Finance
Education
Manufacturing
IT
Any other industry where direct one-to-one communication is essential.
Virtual PBX systems are perfect for businesses that have multiple locations, remote workers, or mobile workers. With a virtual PBX system, businesses can have a single phone number with multiple extensions that can be routed to any phone, anywhere in the world.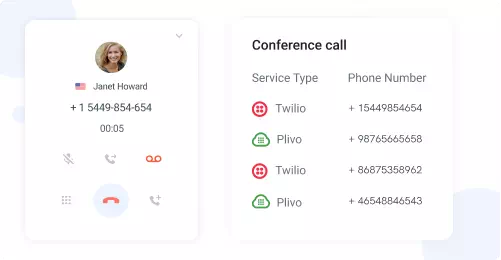 Businesses that use a virtual PBX system can save a significant amount of money on their monthly phone bill. With VoIP, businesses only need to pay for the call minutes that they use, rather than paying for a set of phone lines (trunks) that are unused most of the time.
There are many reasons why a business should use a Virtual PBX system. Some of the most common reasons include:
Cost Savings
Traditional PBX systems can be expensive to purchase and maintain. Virtual PBX systems are much more affordable, and they can save businesses a significant amount of money on their phone bills.
Flexibility
Virtual PBX systems are very flexible and can be easily customized to meet the specific needs of a business. They can be scaled up or down as needed, and they can be easily integrated with other business systems.
Improved Customer Service
Virtual PBX systems can help businesses improve their customer service. With features like call forwarding and caller ID, businesses can ensure that their customers always reach the right person.
Increased Productivity
Virtual PBX systems can help businesses increase their productivity. With features like call waiting and voicemail, businesses can take advantage of every opportunity to communicate with their customers.
In addition, virtual phone systems come with a wide range of features that can save businesses time and money, such as auto attendant, call forwarding, call recording, conference, call blocking, outbound dialing and more.
In conclusion, virtual PBX software has been proved as a boon to businesses. It has helped them to improve their customer service by providing the tools they need to increase customer satisfaction. There are limitations though. As the virtual PBX systems are internet-based. There are times when businesses face a little downtime due to server related issues. Doubts over its robustness towards security have been raised multiple times.
However, even after all these obstacles, virtual PBX continues to be the first choice of businesses. It's just because of the flexibility and modern features that it offers. If you're looking for a cost-effective and feature-rich phone system for your business, a PBXPlus virtual PBX system is the perfect solution.