What is Virtual PBX System?
Virtual PBX software is a phenomenon used for PBX systems that are hosted on the cloud and don't require physical space and resources for deployment, maintenance, and upgradation.
Hosted and cloud PBX systems are the best examples of virtual PBX. Virtual PBX software is the term used to describe a service packaged by vendors who help businesses move their business communication to the cloud.
PBX Software solutions come with various essential features that make them tremendously useful for businesses to provide high-quality customer service and improve customer satisfaction. PBX software solutions like PBXPlus help you build call flows and provide everything that you need to make sure the call flow is smooth and seamless.
These software solutions can not only make calls but also manage call flows with features such as call forwarding, voicemail, call queuing, hold music, and much more. Let's discuss these features briefly.
Important Features of Virtual PBX Software
Call Forwarding
This feature in virtual PBX is used to forward users to the correct department they want to take help from. Virtual PBX software ensures that the call flow is being followed in the right way regardless of its nature—automated or manual.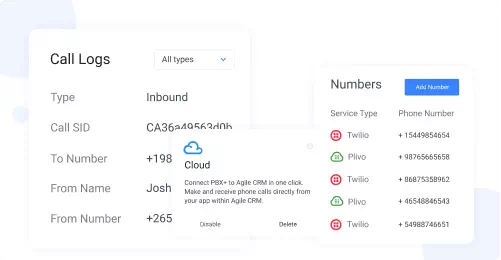 Call Queuing
This particular feature is helpful for your agents who might receive multiple calls at the same time on one line. To make sure that your agents can answer all the calls within less time, call queuing helps customers to be on hold until and unless the next agent is available.
To make this experience seamless, you can also make your customers listen to offers, product information, or simple hold music while they are waiting.
Call Recording & Monitoring
It's important for businesses to monitor the quality of communication that your agents are having with customers. To make meaningful connections, it's essential that you are not sacrificing the quality as well as customer experience. But how can you ensure that?
That's where call recording comes into the picture. It not only helps your agent record calls that they are answering with users' consent but also saves it for you to carry out quality assurance tests.
Conference Calling
Virtual or cloud-based PBX software also allows your agents to interact with multiple people at the same time in one call. With just a click of a button, you can add calls into your existing conversation and create a collaborative environment.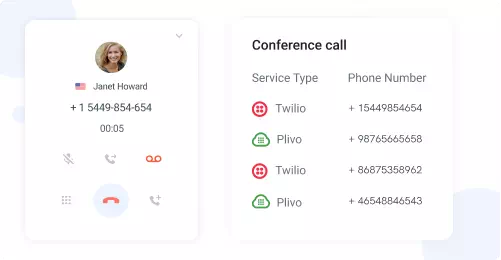 This feature is quite useful for the changing landscape of the business nowadays as offices are becoming more and more remote.
IVR
Interactive voice response (IVR) helps your calls to guide using an automated, software-generated voice. Nowadays, vendors are taking it to the next level by integrating it with artificial intelligence (AI) to make IVR even intelligent and not just a pre-recorded voice. IVR is useful for providing ultimate customer experience when it comes to inbound calling.