What is PBX System?
Integrated business phone system that businesses use to communicate with each other in the organization.
A PBX system is an integrated business phone system that businesses use to communicate with each other in the organization and with an outside audience. PBX is an acronym for Private Branch Exchange and typically uses Voice over Internet Protocol (VoIP) technology to control inbound and outbound call flows.
The term Private Branch Exchange has its roots in the call switchboards used in the old days, where call switching on the correct line and extension used to be done manually by operators. As the technology started to evolve, the switchboards were replaced by machines but the concept remained the same.
PBX is getting more and more popular due to its next-generation features and flexibility that it offers. Unlike the traditional pbx system, which used open standards, modern PBX phone solutions use robust hardware that can be easily replaced and is cheaper than others
PBX system is helpful for businesses to provide enterprise-grade services and also improve customer satisfaction and retention rates.
PBX phone solutions also come with some outstanding additional services including call recording, call forwarding, voicemails, interactive voice response (IVR), call routing, call queuing, etc. These additional features make it beneficial for company reps to provide services that can offer supercharged customer experience.
Reasons to Use a PBX Phone System
It's beneficial for businesses to move to PBX considering a whole lot of benefits that it offers. Now that we understand what exactly PBX is, let's dig deeper into the reasons why businesses should move to PBX.
Cost-Effective
Leveraging the PBX phone system helps you eliminate all the external costs that are needed for maintaining and examining your business communication technology.
Adopting cloud-based PBX technology automatically upgrades your phone communication environment and helps you fix issues.
Remote Team Support
The workforce in today's robustly connected world is remote. In order to meet this demand, your PBX phone system needs to be well-connected to your organization and accessible from anywhere in the world.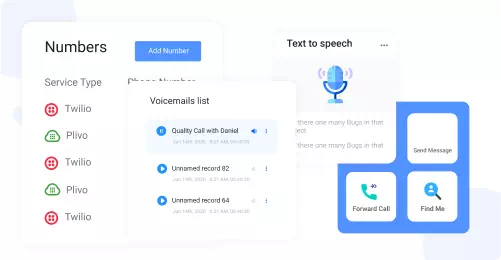 Cloud-based PBX solutions help you make your PBX software accessible to everyone. Basically it can make any computer into a PBX-friendly environment so that your reps can make and take calls anywhere across the globe. This helps the team increase their productivity and hence helps you grow your business.
Flexibility
With the PBX system, any machine can be turned into a full-fledged PBX, which makes it an ultimate choice for rapid business growth.
On top of it, the whole system can be administered using a single machine. Thus, any maintenance can be done instantaneously and therefore all the cost needed can be eliminated.
Easy Setup
PBX systems can be set up easily and no expert onboarding is needed, which makes it extremely easy to deploy. Just plug your main PC into the internet and everything is done. All you need to do after that is configuring your call flows. It's that easy.
Robust Integrations
Most of the PBX phone systems are integrated with third-party software and services like Salesforce, Google Suite, etc. and that makes it even more powerful and versatile to carry out essential tasks. Some vendors might also provide you API access with which you can create custom solutions and integrate the same into your business processes.