7 Tips to Improve Your IVR Phone System
An IVR phone system can be a great way to improve customer service and reduce costs. Here are 7 tips to help you get the most out of your IVR phone system.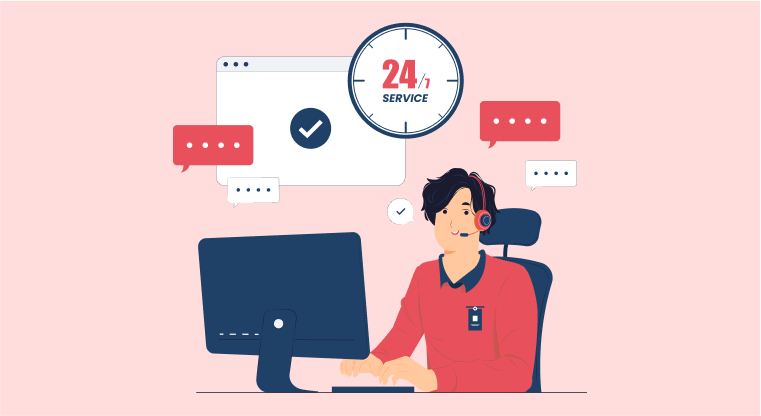 The IVR phone system is a significant means of response for your company. Learn the 7 best practices for using it so you can give your clients a wonderful IVR experience.
What is Interactive Voice Response (IVR) Phone System?
With the help of voice or touch-tone dialing, customers or staff members can communicate with a computer system using an interactive business phone system function. Without going through a human operator and taking up both their time and your agent's, your automated telephony system can engage in basic exchanges with your callers via interactive voice response.
Calls can be efficiently routed to the right person using an IVR phone system. Customers can be guided by the IVR via some menus and alternatives that will direct them to the appropriate department. In this manner, when they do ultimately communicate with a human voice, it will be someone qualified to address their issues.

After user input, the IVR phone system plays back its responses. These responses, which can assist, direct, and redirect conversations automatically based on user reactions, can be pre-recorded audio clips or digitally created voices.

Clients have the option of communicating throughout these exchanges by voice telephone input or touch-tone keypad choices. The responses can be speech, a callback, or any other type of connected media (like reaching out with an email or text alert).

You don't need a live operator to use any of these capabilities. By doing this, fewer employees are required to handle consumer complaints, and competent agents can spend less time on laborious duties like call routing.
Purpose of IVR Phone System
Customers typically call a specialized customer care number or go in person to a store like Apple's Genius Bar to speak with customer service representatives. Customers can now rely less on these in-person encounters and more on self-service thanks to the advancement of new technologies like the Interactive Voice Response phone system and the rising use of online help resources like FAQs and live chat options on a firm website.
Customers will greatly benefit from this. According to a study: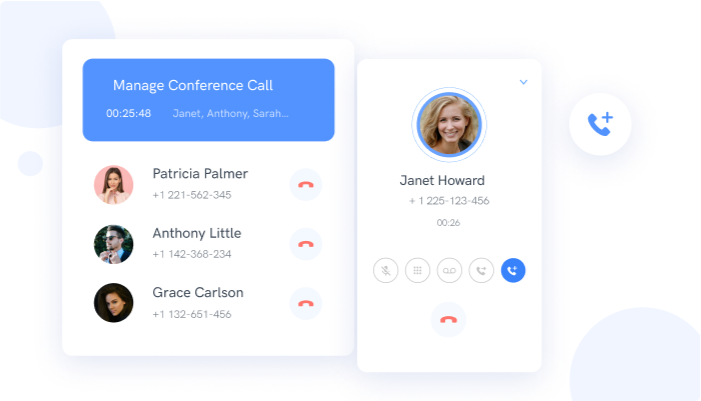 According to 69% of respondents, they preferred finding solutions on their own without assistance from others. Prior to choosing to contact a company's customer service hotline, 63% of respondents said they would start by looking for solutions inside its digital channels. This study shows two significant trends that you should take into account while creating your call center:
Clients prefer self-service. Using an interactive system like VoIP phone, which incorporates Interactive Voice Response technologies, you can accomplish that. Companies should give priority to digital transformation activities if they want to stay relevant in the shift away from using traditional call centers first and turning to digital sources instead.
So what does this mean for your company?
The customer experience is crucial when your business handles a lot of incoming calls because of the flow and promptness of your service. Exactly that is what Interactive Voice Response (IVR) can offer. With the IVR phone system, call centers can run more efficiently since customer service representatives spend less time routing calls and more time resolving customer issues.
Boost Your Productivity and Efficiency with Business Phone System Today! Sign Up 14 Day Trial
In other words, an IVR phone system aids agents in prioritizing consumer demands. Calls can be prioritized based on which customers' issues are urgent or easily resolved. The client experience is enhanced and resolution times are shortened as a result.
7 Ways to Improve Your IVR Phone System
You should consider your customers' needs when designing your IVR workflows. Consider the client journey when your IVR phone system is put into operation. As a result, you should design it so that it is simple and easy to use. The fewer steps necessary for them to leave a voicemail or speak with a professional, the better.
Here are 7 suggestions for enhancing your IVR phone system: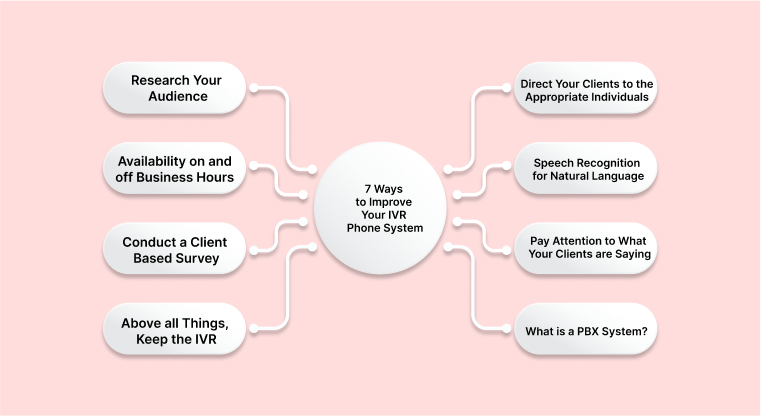 Research Your Audience
Determine which clients are most inclined to use the automation features when creating your business personas. This will let you create them in a way that successfully satisfies their self-service requirements.
Availability On and Off Business Hours
Your main IVR call menu should ideally be accessible 24/7, including after hours. To further enhance your customers' experience, your IVR phone system can handle incoming calls with an automated assistant. Simple questions like store hours, locations, account balances, and shipment details should be able to be addressed by your IVR procedures. Establishing an endpoint for each menu is crucial so that clients won't keep calling or waiting for a response that won't arrive that day.
Conduct a Client-Based Survey
In order to know how your IVR phone system might be enhanced, you need always be aware of what your customers think of it. You can integrate a post-call survey with objective results into the IVR recording to get quantifiable and useful insights. You can use this data to identify the customer service areas that want improvement.
Above all Things, Keep the IVR Menu Simple
Keep any menu options for call steering to four or fewer and don't have more than two levels of possibilities. Start with the simplest, highest volume services when developing self-service applications and work your way up from there. It could seem like a smart idea to expand the options on your IVR menu in order to ascertain a caller's precise purpose. Keep in mind, nevertheless, that over 75% of callers believe IVRs compel them to hear irrelevant options.
Direct Your Clients to the Appropriate Individuals
As a business person, you want all of your clients to receive prompt and effective service. As a result, your initial selection menus need to be condensed. Callers should first be categorized into broad groups based on typical questions, and then your system should route calls to the appropriate departments. Avoid attempting to automate intricate transactions; instead, give an agent control of these calls. This will give customers a better experience than having to communicate with a robot that they may feel doesn't comprehend their problems.
Speech Recognition for Natural Language
IVR systems that use natural language enable businesses to automate more processes than would be possible with touch-tone contact. As a result, more flexible and sophisticated apps can be launched, and IVR systems are able to understand responses they may not have previously heard.
Pay Attention to What Your Clients are Saying
Without truly listening to its customers, no company can assert that it offers a positive customer experience. As was already said, you can gather user input and assist clients in finding solutions using your IVR phone system. A quick survey at the conclusion of the call can assist your team in maximizing performance and enhancing the client experience by analyzing IVR voice recording history.
What is a PBX System?
A private phone network used within a business to manage outbound and inbound calls is known as a PBX system and goes by the acronym PBX, which stands for private branch exchange. A PBX system, in contrast to a public telephone network, is hosted by the business (or a third-party provider) for its private calls. Multiple landlines connected to each department from the central PBX box were the initial PBX systems. Calls could be routed to the appropriate areas from here. Of course, this was restricted to a single structure.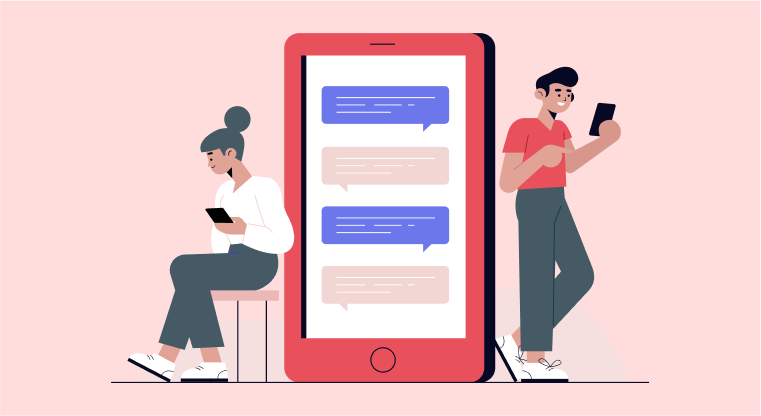 Modern virtual PBX systems manage and route calls using digital technologies. Companies do not need to have different phone numbers for each department when using virtual PBX systems. Customers can dial a single central number, from which calls can be forwarded to the appropriate representative or division.
Many businesses today are using Internet-based cloud PBX systems like PBXPlus, which have enhanced call quality to and from the company. Large businesses with a high call volume may manage incoming calls with ease thanks to PBX systems. Smaller businesses can enhance their operational effectiveness to increase production and customer service.
Conclusion
Your company may take use of cutting-edge technologies to deliver more effective phone service with a PBX system like PBXPlus by 500apps. Use a PBX system to improve the caliber of your company calls.
What Makes the Best Business Phone System?
#1
Get unlimited phone lines, IVR flows and minutes and never miss a single call
#2
Improve caller satisfaction while reducing cost with multi-level IVRs
#3
Add call activities and route calls real-time based on the lead owner in your CRM
#4
Respond to customer concerns quickly with voicemail transcriptions
#5
Choose toll-free and local numbers from 48+ countries
#6
Use the REST step to integrate your IVR flow with your database and backend
#7
Bring your favorite provider for the best possible rates ever
#8
Embed click-to-call widget on the website to increase leads
#9
Unbelievable pricing - the lowest you will ever find
#10
Everything your business needs - 50 apps, 24/5 support and 99.95% uptime
Join the SaaS Revolution
All-in-One Suite of 50 apps

Unbelievable pricing - $14.99/user

24/5 Chat, Phone and Email Support