13 Amazing Advantages of Using Hosted Phone System
A hosted phone system gives you all the benefits of a traditional office phone system without its expensive hardware costs. Here are 13 great advantages of using one.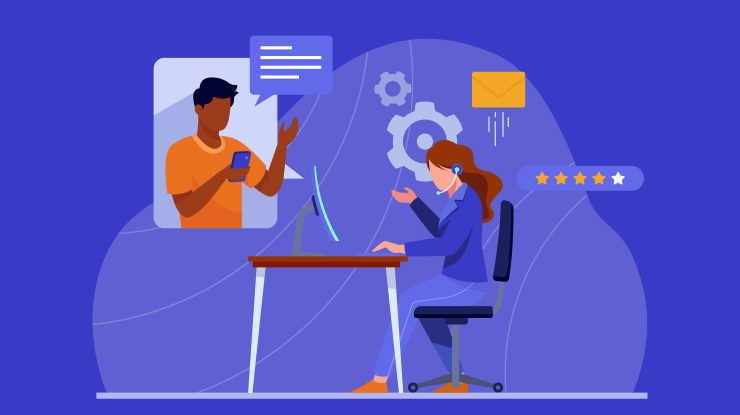 Hosted phone systems have many benefits for businesses of all sizes, especially for SMBs. The importance of seamless communication in business cannot be overstated. Here are 13 amazing advantages of using hosted PBX.
An unreliable business phone system can be a very costly expense. Your employees and customers rely on voice calling technology to communicate and collaborate. If your phones go down, it will have an immediate impact on productivity, customer satisfaction, and brand reputation.
The temptation to stick with the familiar can be very real, especially for companies who lack in-house technical expertise or huge budgets for communications. Your traditional telephone vendor may not be perfect, but the risk of the unknown can be a little scary. If you're trying to decide whether the benefits of VoIP are enough to justify the cost investment and making the switch, you're in the right place.
Organizations of all sizes are now switching to hosted phone systems as a communications tool for their businesses. Why? Well, there's a broad range of benefits that include reliability, convenience, flexibility and more.
Research also shows that making the switch to a hosted phone system can deliver significant cost savings compared to premises-based pbx phone systems.
Depending on your organization's size and specific calling needs, you can save significantly on your monthly phone bill by switching to hosted voice. It's no wonder that analysts estimate that the VoIP market is growing at over 15% per year!
Understanding the full scope of benefits made possible with modern phone systems can help you future-proof business communications.
Cloud phone systems no longer represent a high-risk investment for businesses. Jamal Mazhar, Founder and CEO, Kaavo believes that, "Cloud computing is empowering; companies leveraging cloud will be able to innovate cheaper and faster."
Analysts predict nearly 100% of firms will adopt cloud tools by 2021. Here, you'll learn remarkable advantages that hosted telephony contributes to the way your organization communicates.
What is a Hosted Phone System?
Simply put, hosted phone system is a phone setup that works through an internet connection. A hosted phone system is one where the "brains" of the system (the servers and applications) are based at a data centre rather than at your place of business.
Advantages of Using Hosted Phone System
Hosted phone systems are a flexible, low-maintenance alternative to analog phone lines or premises-based phone systems. Businesses who switch to hosted telephony can enjoy a wide array of research-backed benefits which range from cost efficiency to superior scalability.
By partnering with a VoIP vendor to switch to a hosted solution, organizations can achieve simpler management and enhanced features. Cloud phone service can improve business agility with features that support employee productivity and performance.
1. Simpler Management
Installing a traditional phone system in an office requires scheduling an appointment with a service company technician to install the equipment and run the wiring specific for the phone system. While this is rarely an ongoing issue, it's certainly a pain when you're first getting set up or need to make significant changes to your phone lines.
Getting started with a hosted phone system is easy. All you need are handsets the can share the same wiring and switches as your LAN. While vendor support can vary, getting your business connected to a hosted phone system requires a minimum of internal expertise and skills.
2. Contact Center Benefits
For businesses that conduct customer service via the phone, a hosted phone system is primed for the needs of a contact center of any size—from a small handful of customer service representatives to hundreds of agents operating 24/7.
With a hosted phone system provider that supports contact center needs, you can appreciate:
Unified communications (UC): UC allows your reps to communicate with customers via phone, chat, email, and more.
Reporting and monitoring: Many VoIP services for contact center solutions offer easy access to the metrics and oversight you need to make smarter staffing and training decisions.
Interactive voice recognition (IVR): By allowing your customers to speak their needs, you can throw away your old-school push-button phone tree and route calls to exactly the right department or person.
Smarter call routing: VoIP offers extreme flexibility in routing, allowing you to optimize the number of calls received according to CSR training, skill level, and other factors.
3. Enhanced Features
Sophisticated cloud-based communication tools are among the most powerful hosted phone system benefits. You gain immediate access to the cloud tools your company needs to collaborate more effectively. Some enhanced features for mobility and productivity are included as a standard part of a hosted phone system. Other features are offered as affordable add-on services:
SMS (text) messaging
Chat messaging
Auto-attendant
Fax service
Team collaboration tools
Call log reports
Call recording
Visual voicemail transcription
They also provide organizations with the flexibility to explore and test enhanced features before committing to a purchase.
By partnering with a vendor who offers a comprehensive range of business communications tools, your access to advanced features is nearly unlimited.
4. Flexibility and Scalability
When you're using an analog or PRI phone service vendor, adding another phone line isn't always easy. You'll spend time on the phone with customer service, schedule an installation, or even wait long periods of time. It can be slow, costly, and annoying.
A hosted phone system allows you to add phone lines easily within minutes, often directly from your management portal, at a flat rate per month. All you need is a handset and the ability to perform a few clicks. The flexibility and scalability of a hosted phone system is ideal for businesses with seasonal fluctuations in staffing or companies experiencing fast growth
5. Data Integration
Creating a positive "customer experience" means that you need to integrate your communications across channels. This can require bringing together social media, phones, email, voicemails, chat, and any other methods your customers use to communicate.
By selecting a hosted phone system that integrates with your customer relationship management tool, you can develop insight into every communication a customer has with your company.
6. Unified Business Communications
You might not be ready to leap into unified business communications today—and that's okay. With a hosted phone system vendor that offers a full range of business tools, you can jump when you're ready.
By putting your phones, add-on services, internet connectivity, and data on a single network, you can achieve:
Improved team collaboration
Better customer satisfaction due to transparency
Improved customer service
Quicker troubleshooting
Higher employee productivity
7. Saves Cost
The cost savings potential is immense. There is some initial investment cost in handsets, but you can pay a flat-rate per month for each phone line and add-on services. Researchers estimate that the average company saves 40% on hosted phone systems over analog, while companies with high international calling needs can save 90%.
It's important to note that a hosted phone system can save your company money in other areas, too. You're not going to lose productivity when traditional phone lines go down. You won't experience a humiliating data breach (and associated cleanup costs) from phone tapping. It just makes financial sense.
8. Mobile
Mobility is among one of the most common benefits that companies unlock when they switch to hosted phone systems. Depending on your vendor and configuration decisions, you can enable phone calls to ring simultaneously to both desk and mobile phones, unlock mobile call transferring, or enable mobile failover in the rare case your internet goes down.
For companies that allow employees to work remotely or have travel needs, the mobility benefits of a hosted phone system are remarkable for productivity and customer service. You can totally eliminate the confusion of lost or missed voicemails or of employees who have to juggle a desk line and a mobile number.
9. Good Customer Service
Simply put, customers love a hosted phone system. The right interactive voice recognition system can reduce feelings of being "bounced around" from rep to rep, enabling them to talk to the right person immediately.
It also means less busy signals, higher call quality, and faster responses to queries with the right add-on features.
In addition, with the right vendor for your hosted phone system, you may be able to unlock far better customer service than you have with your analog phone vendor. You can appreciate 24/7 expert support, online knowledge base tools, better business continuity, and a host of other benefits.
10. Productivity
Your employees will get more done with a hosted phone system. Studies indicate that the productivity gains are greatest when you unlock mobility. Your employees can access transcripts of voicemails via email, allowing them to act on customer needs immediately. You'll deal with fewer missed calls, and data integration can eliminate the risk of confusion.
Analog phone service is just phones. A hosted phone system, however, can act as a comprehensive platform for business communications that matches the way your people work.
11. Pay-as-You-Go
Hosted phone systems are based on simple, transparent pricing models which are billed on a monthly basis. The initial costs of switching are minimal since the provider owns and maintains the majority of the hardware and infrastructure needed to support cloud communications. Your organization's monthly bill is based on the number of phone lines and enhanced features your company actually uses.
This flexible, pay-as-you-go approach to pricing can offer significant benefits for many organizations compared to the methods of traditional phone service providers. With conventional analog phone lines or PRI phone systems, your business may be locked into contracts with the phone company or stuck paying for unneeded infrastructure.
Paying monthly for phone service as an operational expenditure may also offer strategic benefits to some companies. By saving money upfront on your switch to a new phone system, you can direct funds to marketing, sales, research or other growth-fueling priorities.
12. Simpler Maintenance
A hosted phone system will reduce your organization's reliance on employees or service technicians to perform upgrades and maintenance on the phone system.
Making changes to telephony infrastructure with traditional telecommunications providers often requires costly on-site visits from service techs which may cost hundreds of dollars. There can also be significant delays in service availability with many providers, leading to weeks of delay before you can add a single phone line.
By partnering with a hosted phone system provider, you're able to outsource the majority of the upkeep for your phone system. The vendor should manage maintenance, updates, and repairs to their infrastructure. Your organization can save on IT staffing and 3rd-party tech costs by relying on a cloud communications provider to keep your phones running optimally.
Hosted phone systems should offer simple management portals which are easy-to-use without assistance from IT staff or vendors.
13. Reliability
Research shows the single most common reason businesses delay switching is reliability concerns. Generally, these fears are unfounded.
Traditional phone systems use copper cabling to transfer voice calls. The traditional telecommunications infrastructure is nearing end-of-life. Traditional copper cable lines are vulnerable to a surprising number of failures, including natural disaster, vandalism, hardware failures, electrical outages, and software issues. If the cable connecting your business to your telecommunications company is cut due to a phone tech's error or an act of vandalism, your business will lose all phone service and could suffer an extended outage.
VoIP technology has matured and evolved significantly into a highly reliable source of business voice communications. While VoIP depends on an Internet connection, these risks can be managed by adopting fiber-optic Internet connectivity and securing sufficient bandwidth. Hosted phone systems can even offer reliability advantages with automatic failover to mobile phones.
The best providers have invested in a highly redundant infrastructure to protect against natural disasters or failures in data center power, connectivity, or cooling equipment.
Why You Should Choose a Hosted Phone System?
Adopting any new technology can bring fear of the unknown and some degree of risk. However, a hosted phone system is a well-established platform for business communications that is quickly becoming the norm.
With the way the world currently is, using a hosted phone system is the way forward. According to Gartner, the shift to remote work will require organizations to set up more flexible and less centralized operations.
Your business needs a reliable, cost-effective phone system which can deliver both clear sound and clear value. For many organizations, hosted voice is the right choice compared to analog small business phone system or on-premises VoIP solutions. Switching to cloud-based telephony is likely to deliver significant cost and productivity advantages.
Partnering with the right cloud communications vendor is vital to fully unlocking the benefits of hosted telephony. The right provider should be highly responsive, invested in your businesses' success and, offer the flexibility to meet your specific requirements. PBXPlus is a really great way to start.
What Makes the Best Business Phone System?