9 Compelling Features of PBX Software
A Virtual PBX software increases communication within an organization. You must look for these features before selecting virtual PBX software for your business.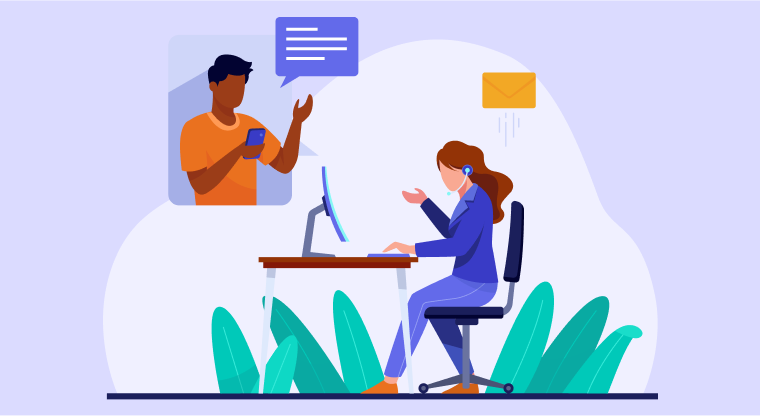 Information and communications technology unlock the value of time, allowing and enabling multi-tasking, multi-channels, multi-this, and multi-that. - Li-Ka-Shing
Communication in any work environment is crucial, and its combination with technology is beneficial and relevant. Communication within organizations has been made more convenient by using PBX recently. Gone were the ancient days of walking down several steps to deliver an urgent message. Furthermore, PBX eradicated the costly phone bills that would have been accrued using customary phone lines. Today you'll understand the virtual PBX Software features & why it is necessary.
PBX (Private Branch Exchange) is a phone system that switches calls between users within an organization and allows calls to a few selected external phone lines. PBX is a reliable phone system for businesses, it will enable communication within the organization, and Traditionally, all connections of a PBX system are wired, creating a physical voice network. These have become obsolete with the advent of technology as businesses now use cloud-based options, with new features consistently becoming available.
Companies now use PBX to connect all their business phone system to an external line. This way, they get to lease only a bar and have many people using it. However, each individual having a phone at a desk will have a different number. Although the number is not in the same format as a phone number as it depends on internal numbering, In PBX software, you need to dial three or four-digit numbers to call a person in the network. This number is popularly called the extension.
What is a Virtual PBX Software?
A virtual PBX is a cloud-based software that provides organizations with phone options. With additional features, it allows businesses to streamline and increase information communication. Unlimited minutes, video conferencing, business SMS, personalized greetings, and many other services are included. A virtual phone system also provides call recording, CRM integration, email-to-fax, and hotdesking, among others.
You can set your organization up for success with effective virtual PBX software. The software increases customer satisfaction, manages call flows with automation, accesses reports at your fingertips, and manage several telephone numbers in a place.
What Makes Virtual PBX Software Special?
The virtual phone numbers system is the business phone of the future, mainly because it eases the burden on organizations. Now, organizations need not set up physical telecommunication units and apparatus or manage calls, as the pbx system transfers all these to a cloud-hosted system. Hence, the name Voice over Internet Protocol (VoIP).
The world's future is digital, so instituting a virtual phone system for your business is wise. The decision would firmly ensconce your organization in the ever-evolving world of digital communication.
9 Top Features of Virtual PBX Software
If you want to equip your business with the latest technology in phone systems, you should consider looking out for these features in a virtual phone system.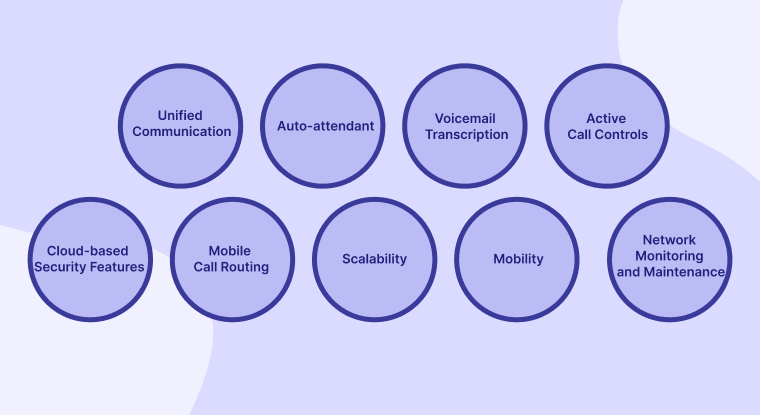 1. Unified Communication
The most important feature of virtual PBX software is its ability to unify communications. It is the integration of real-time communication services with non-real-time communication services. Real-time communication between hardware media and software protocols gives real-time guarantees. There is a simultaneous exchange of information between individuals on both sides of the communication. Some examples of real-time communication include presence notification, voice and mobility features, robotic telepresence, teleconferencing, speech recognition, call control, data sharing, desktop sharing, and many others.
Non-real-time communication is a series that do not require individuals on both sides of the communication simultaneously. The sender starts the conversation, and the receiver does not have to answer immediately. Text messaging, email, fax voicemail, and other non-real-time communication methods are examples.
Cloud PBX software should be able to unify communication using advanced technology, providing a consistent and unified user interface across many devices.
2. Auto-attendant
Before considering a virtual phone system, it is best to consider how much it would ease the stress on your receptionist. They deal with many daily calls, which can handle more efficiently with an auto-attendant feature. With an auto attendant phone feature, your receptionist can attend to other duties. Hence, the effectiveness and productivity of your receptionist will increase significantly.
The auto attendant features routes and re-routes callers to get them to the right place. The service automatically points callers to the right individual. It is done by navigating through a set of pre-recorded options.
A virtual PBX system with an auto-attendant feature means fewer incoming calls need a live operator. Your business can save a lot of time and resources that would have gone into staffing the department.
3. Voicemail Transcription
Virtual PBX software can voice transcription, which is immensely valuable for getting a text format for non-real-time communications. The voicemail transcription transcribes your voice messages into text formats before sending them via email or text to you or designated individuals.
You will find this feature to be ultra-convenient when you are in a situation not to answer calls or bring out your phone. You can silently go through the transcribed voicemail and respond accordingly without attracting unwanted attention.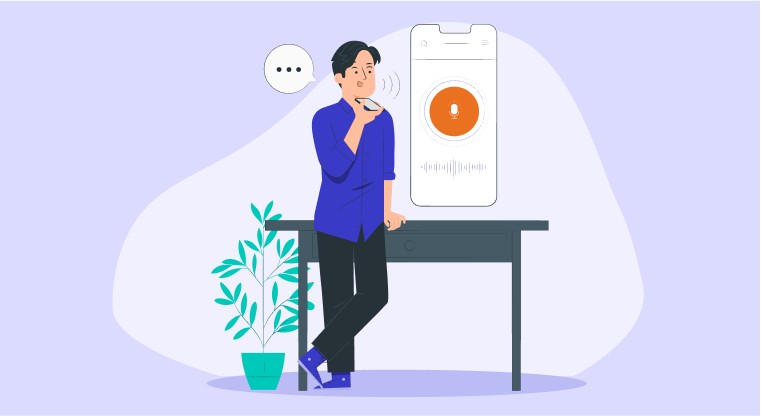 Some providers only have a voicemail to-email feature that takes voicemails and sends the recordings to your email inbox. Either way, you will get a notification when a voicemail or transcript is dropped in your mail on your VoIP number.
4. Active Call Controls
When you think of a virtual phone system, one key feature is its ability to control calls. A suitable virtual PBX software should be able to monitor and navigate your calls to your liking. Active call tools include monitoring, whispering, barging, and call recording. With monitoring, you can listen to a call. The software has tools that let you eavesdrop on a call without saying anything without participating in a conversation.
With whispering, you take monitoring a step further. You can break into a conversation you are listening to when needed. This tool can be important when a conversation is on track or when sensitive information about your organization is at risk of being divulged.
Our virtual PBX Software is Packed With all the Features You Need to Run Your Business Efficiently. Sign Up 14 Day Trial
Barging makes you join a call any time you want. It is essential as you can not miss out on crucial calls that started without you. Also, you can switch calls and move freely with the barging tool.
The recording feature allows you to play over a call later. With this feature, you can leave out attending meetings to focus on other things and be sure to grasp the discussion when you listen to the recording later.
5. Cloud-based Security Features
Data are at risk of being hijacked by cyber attackers in the information technology world. Hence, the virtual phone system must have a formidable cloud security feature. Since all your information is stored in a cloud, protected by your software package, you get to minimize the uncensored pilfering of information. You gain peace of mind by investing in a new phone system for your business.
Leading virtual PBX software worldwide has voice encryption tools, making it difficult for random people to know who says what. Also, PBX software allows end-to-end encryption, making it difficult for unwanted ear-to-door listeners to overhear your conversations. Other tools like IM traffic and signaling help keep sensitive information private over internet communication.
Above all, these encryption tools provide features that allow setting up call conferencing, reading messages, and others with one-time access numbers and enhanced password protection.
6. Mobile Call Routing
With the current state of the world's technology, having mobile access from anywhere is more important than ever. Today, virtual PBX software allows communications—personal and business—to live comfortably in one device without transference. The software handles that by allocating separate identities to each communication space.
Also, inbound calls to the software are sent directly to the mobile device, while outbound calls are imported with your business ID. Calls will automatically switch between networks—Wi-fi and cellular—depending on your location.
7. Scalability
A virtual PBX software should be able to evolve as your business grows. A digital phone business for business automatically lets you add contacts or extensions, unlike traditional phones. Also, the software can seamlessly connect to mobile devices when you need to.
These dynamic tools can provide substantial advantages for your brand. Apart from changing features, users, and functionality quickly and progressively, you can deflect overpaying commutation capacities you do not need. You can do this without limiting your ability to grow as your business expand.
8. Mobility
A phone system for business allows for mobility. The software can be added to almost any desktop or mobile device. This additional tool extends the network of your business to remote workers without having to add expansive hardware.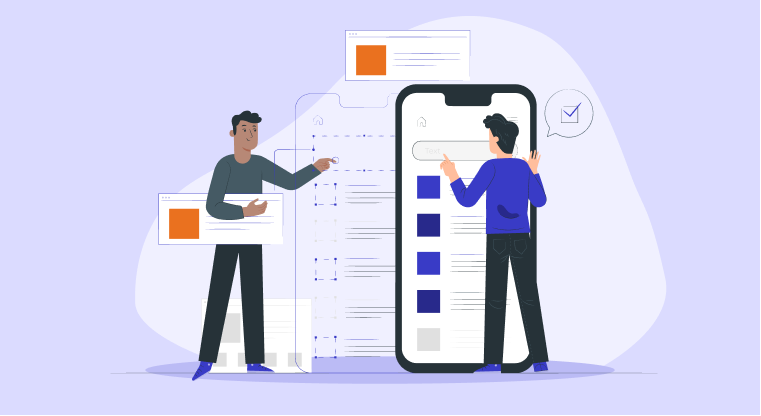 Your employees should be able to work seamlessly from anywhere. A virtual PBX system should manage calls, call routing, initiate meetings, and connect to any employee from any remote location. Above all, the software can make and receive calls from employees using the same number they would use if they were sitting at their desks.
9. Network Monitoring and Maintenance
Part of the responsibilities of a virtual PBX system is network monitoring and maintenance. So you do not need a dedicated staff to handle it. You do not need to take a virtual phone system offline for maintenance or updates, reducing your downtime.
Before using a virtual phone system, check that the provider has a dedicated security team where the data centers are housed. This way, the PBX service provider should be able to handle problems and interruptions without affecting your business.
Also, in case of disasters, the network provider should have a backup generator always to keep your system up and running.
Conclusion
You should not be a slave to your phone, and the technology is there to serve you, not the other way around – Martin Cooper.
Until recently, PBXs were a business essential that only giant corporations could afford. Now, SMEs can benefit from the features and functionalities PBX offers. However, they have to invest some money into hardware and software, but its benefits are considered in the long run, both operationally and financially.
The cost of a solution is a significant factor when you're using a new virtual phone systems software. After all, investing thousands of dollars in a virtual phone system that doesn't have the features you need is pointless.
Hence, use the above list when waking through lists of virtual PBX software providers and ensure that these features are standard or add-ons. It is also economical to choose a package that offers these features as a standard. PBXPlus by 500apps is the advanced phone system which has earned trust of several small and medium scale business for its robust performance as a small business phone system. Along with IVR and other features, PBXPlus also provides access to other 39 applications of its parent suite.
What Makes the Best Business Phone System?
#1
Get unlimited phone lines, IVR flows and minutes and never miss a single call
#2
Improve caller satisfaction while reducing cost with multi-level IVRs
#3
Add call activities and route calls real-time based on the lead owner in your CRM
#4
Respond to customer concerns quickly with voicemail transcriptions
#5
Choose toll-free and local numbers from 48+ countries
#6
Use the REST step to integrate your IVR flow with your database and backend
#7
Bring your favorite provider for the best possible rates ever
#8
Embed click-to-call widget on the website to increase leads
#9
Unbelievable pricing - the lowest you will ever find
#10
Everything your business needs - 50 apps, 24/5 support and 99.95% uptime
Join the SaaS Revolution
All-in-One Suite of 50 apps

Unbelievable pricing - $14.99/user

24/5 Chat, Phone and Email Support