7 Best Practices to Provide Engaging IVR Experiences
Have you ever dialled a company number and were greeted by an automated message? That's an IVR.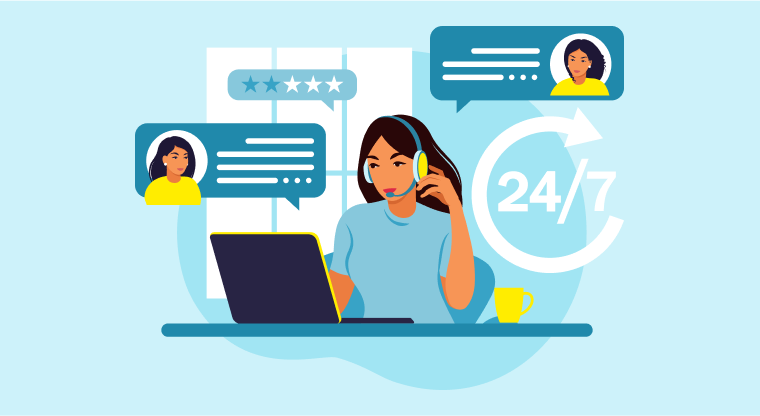 What is an IVR System?
IVR, or Interactive Voice Response System, is a feature of automated commercial phone systems that engages callers and collects data by offering them options from a menu. It takes activities based on the caller's responses via the telephone keypad or voice response.
Benefits of an IVR
The most popular IVR benefit is that it has an automatic filtering procedure. Agents receive indications of what issue they'll be dealing with before answering the phone rather than digging into a mountain pile of queries. While the customer avoids being put on hold multiple times during the conversation, your business avoids the significant costs associated with unnecessarily long call handling times. To put it another way, it's the ultimate win-win situation.
Customer Service with Self-Service
Implementing a business phone service with an auto-attendant is the first step in improving your client experience. IVR lets you serve your consumers even when you don't have any agents accessible. Callers can get basic information by dialing your phone number and going through an ivr menu outside the usual business hours—or when agents are occupied with other calls.
More Knowledge, More Savings
The success of your business depends on knowing who your customers are. Because computers are built to collect, process, and store vast amounts of data, customers will benefit from talking with a computer before speaking with a human agent. The information gathered by your ivr technology about caller inquiries is beneficial for your overall business strategy and can also be used to optimize your IVR system.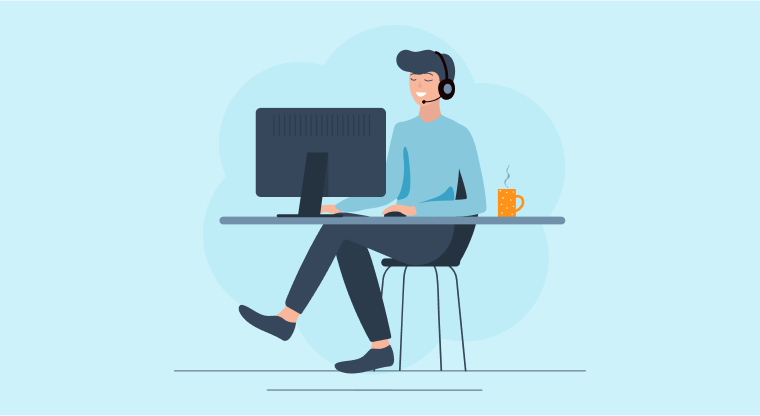 Ways to Optimize Your IVR Experience
Customers get the help they need without having to deal with a human when brands optimize their websites and applications with tools and easy access to frequently asked questions. As a result, automated service saves them time.
An interactive voice response system provides another automated option for immediately connecting to the most appropriate source when speaking with an agent is required.
Create a User-friendly Environment
Include all the crucial options a customer would require when building IVR menus. In particular, use clear language and easy-to-read text in visual IVR menus. For a seamless experience, strike a balance between providing alternatives and meeting all probable client needs.
Keep it Simple and to the Point
Keep in mind that buyers want to save time. Therefore, ensure your IVR options only provide crucial information and don't waste your consumers' time by providing them with the information they don't require at the moment.
Update Your IVR Menus Regularly
Always be on the lookout for methods to improve your IVR menus and keep them updated. An excellent way to do this is to use customer feedback.
Make a Callback Option Available
Give customers more control over their time with a callback option. They will rest easy, knowing that a live agent will call them instead of waiting in line.
Update Them on Their Expected Wait Time
Notify customers of their current position on the cell line, hold periods, and the number of callers ahead using modern IVR technology. If they don't want a callback, the very least you can do is reassure them that they're still on the list.
7 Best Practices to Provide Engaging IVR Experiences
1. Make Options Simple to Comprehend
It's a bad user experience if callers can't get through to the person or department they are looking for due to complex options. By simplifying your menu selections, you will assist callers in swiftly obtaining the information, department, person, or service they require without interacting with a representative.
2. Use a Voice That Sounds Natural
You've probably encountered an ivr system that sounded fake and perhaps a couple that had completely robotic voices. When your customers hear a voice that sounds like it's coming from an old IVR system, they prepare for the worst. That is why you should use a premium, natural-sounding voice IVR system.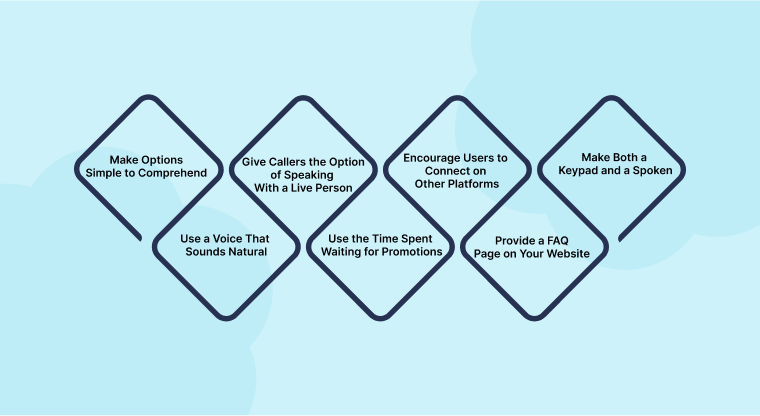 3. Give Callers the Option of Speaking With a Live Person
Most businesses do not want callers to reach live representatives immediately through their IVR menu. Instead, they prefer self-service options. The worst thing you can do to your callers is locking them up in an IVR "prison" where they cannot contact a live person and are forced to listen to excessively long menu lists. A better approach is to provide callers with the option of connecting with a live person from the beginning.
4. Use the Time Spent Waiting for Promotions
As previously said, you only have limited time to establish your consumers' trust before connecting them with the person or menu item they desire. Instead of merely playing music in the background, you should leverage the time while callers are on hold to help you achieve your business objectives.
5. Encourage Users to Connect on Other Platforms
It's worth noting that you can use various strategies, such as call forwarding, to find the first available member of your support team as quickly as possible to preserve a positive caller experience. However, you may use that tiny window of opportunity to urge callers to interact with you via other means by using ivr call flows.
6. Provide a FAQ Page on Your Website
Including a FAQ page on your website where callers can go to get the answer to their queries is a fantastic idea that will improve your customers' experience. You'll not only be able to increase the number of visitors to your site, but you'll also be able to provide them with a lot of value in the shape of knowledge and tools that will help them solve their problems faster.
7. Make Both a Keypad and a Spoken Option Available
Another technique to make your IVR menu system more user-friendly is to include both keypad and spoken options. Customers can select whether to respond with a voice command or by pressing numbers on their device keypad.
Conclusion
Customer experience is often the deciding element between organizations and brands in today's competitive market. Your IVR system is an integral part of your customer service strategy. Your callers will have a better customer IVR experience when interacting with your business if you design and use a modern, intuitive IVR solution with a clear, natural flow.
What Makes the Best Business Phone System?
#1
Get unlimited phone lines, IVR flows and minutes and never miss a single call
#2
Improve caller satisfaction while reducing cost with multi-level IVRs
#3
Add call activities and route calls real-time based on the lead owner in your CRM
#4
Respond to customer concerns quickly with voicemail transcriptions
#5
Choose toll-free and local numbers from 48+ countries
#6
Use the REST step to integrate your IVR flow with your database and backend
#7
Bring your favorite provider for the best possible rates ever
#8
Embed click-to-call widget on the website to increase leads
#9
Unbelievable pricing - the lowest you will ever find
#10
Everything your business needs - 50 apps, 24/5 support and 99.95% uptime
Join the SaaS Revolution
All-in-One Suite of 50 apps

Unbelievable pricing - $14.99/user

24/5 Chat, Phone and Email Support