Future of Virtual PBX Software
Virtual PBX software is the PBX phone system of the future. It transfers the burden of equipment, managing the calls and other communication to a cloud system, making it a Voice over Internet Protocol (VoIP). This network is beneficial for businesses.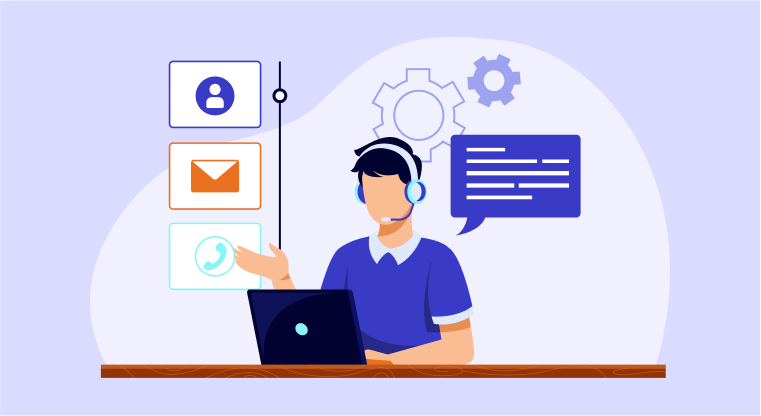 Information and communications technology unlock the value of time, allowing and enabling multi-tasking, multi-channels, multi-this, and multi-that.
As highlighted by Li Ka-Shing in the quote above, communication in any work environment is crucial, and its combination with technology is beneficial and relevant. In the course of exploring and experimenting with different technologies that can be impactful, there have been several types of technology created to improve this communication and create a system that is simple, affordable, and easy to use and maintain.
Of these technologies, the most noteworthy is the Private Branch Exchange system. Simply put, Private Branch Exchange is an internal telephone network or system businesses and companies use to enable employees to have easy and fast connectivity. It switches calls between employees and other callers on local lines while allowing these users to share several external phone lines.
Virtual PBX is a cloud-based private branch exchange software that allows for this connectivity over a broader range, whether remotely or on-site, and at a more efficient cost and management. In this post covid era, it has become essential for companies that have transitioned to remote work as it is very helpful in improving efficiency in company communication and maintaining a private and professional work environment.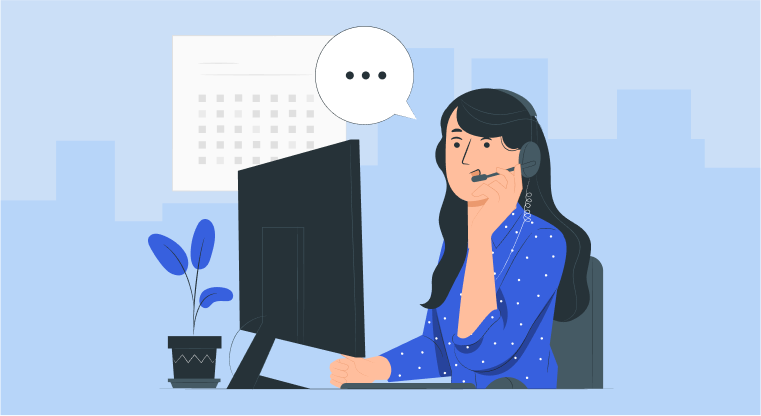 Many businesses have used traditional private branch exchange (PBX) systems for years. It is a hardware-based phone system that uses multiple phone lines connected to a central PBX control unit. An operator runs the system, manages the phone directory of the business, and directs the inbound and outbound calls. However, in this new age of technology development and in light of the need for companies to adapt to off-site working situations due to the Covid pandemic, this type of phone system is quickly giving way to its more modern counterpart; Virtual PBX.
What Exactly is Virtual PBX?
This is a type of cloud-based or hosted phone system that works as a business voice over IP (VoIP) private branch exchange system. It works over the internet and is also commonly known as a hosted or cloud pbx. It uses IP addresses to identify extensions and then replaces the physical phone lines and extension numbers, to make all phone communications purely internet-based.
What Makes Virtual PBX Special?
Virtual PBX software is the phone system of the future. It is mainly because it transfers the burden of equipment, managing the calls and other communication to a cloud-hosted system, making it a Voice over Internet Protocol (VoIP). This network is beneficial for businesses, especially start-ups. That's not all that is special about this type of PBX. There are many more features and benefits to this virtual pbx software that make it the best phone system for businesses looking towards a digital future.
Primary Benefits of Virtual PBX Software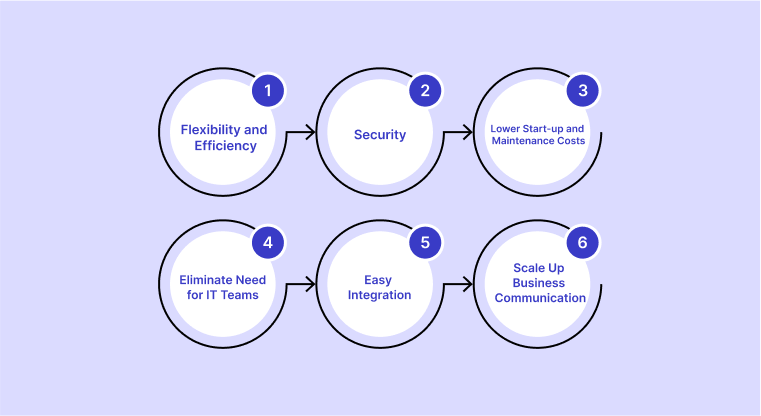 1. Flexibility and Efficiency:
Virtual PBX software systems allow you to connect with employees not just within the physical building but also at near and far distances. This is especially useful in this covid era as it allows you to maintain efficient work communication from the safety of your homes.
2. Security:
With the presence of data protection and firewalls, your information and communication are safer than ever. You can have data encryption for your calls, firewalls to prevent unauthorized access, and more protective walls to keep your business information private.
3. Lower Start-up and Maintenance Costs:
Virtual PBX systems are cloud-based, which means that they do not require much equipment to function. This saves the small business phone system the costs of purchasing and installing initial equipment, and of future equipment maintenance.
4. Eliminate Need for IT Teams:
The use of this software eliminates the need for a specialized IT team to monitor and manage it. This saves the company the cost of a dedicated IT team and frees up any existing IT staff to focus on any other technical components of the business.
5. Easy Integration:
For companies that are transitioning to virtual software, there is the benefit of being able to retain your pre-existing traditional system. The virtual software can be easily integrated with your old device and may save you the cost of buying additional hardware.
6. Scale Up Business Communication:
PBX systems can scale up and down to cover your business communication requirements as your business grows and expands. It does not require more resources and equipment like a traditional system to expand and can scale at minimum cost and a high capacity.
There are also several features of business phone system that make it very suitable for businesses looking to establish themselves in the digital business world. Some of these important features include:
Customization features allow you to specify how you want your system to work. This allows you to tailor it to respond to callers and perform its other functions in a way that best suits your business.

This takes communication past the barrier of audio restrictions, allowing you to have a form of physical interaction with clients and employees through online video calls.

Live call monitoring and recording that allow you to monitor the calls that go in and out of your company. You can also record the conversations made on these calls and store them for future reference and analysis.

Voicemail functions allow callers to leave a message containing their inquiry or request when their calls are unattended or unanswered. It also aids in quick response to their request when the message can be easily accessed through voicemail.

Three-way calling is a feature that allows up to three users to connect on one call. This eases the issue of having to make two separate calls when the three concerned users can connect at once.

Several other features as seen in the image below which include fax, intercom, unlimited call handling messaging, custom hold music, etc.
Projections for the Virtual PBX Software Market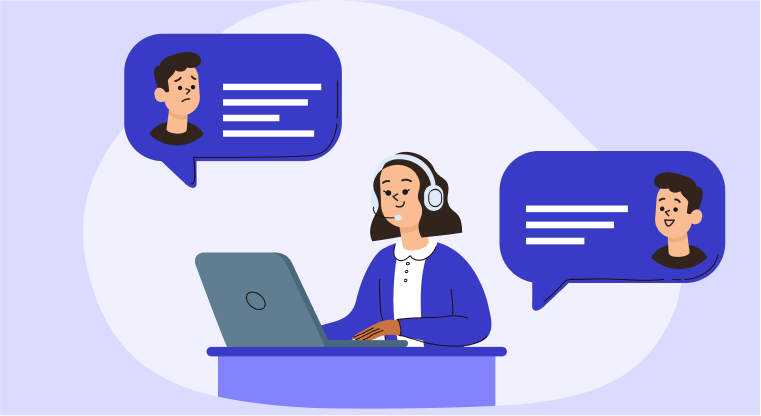 The growing demand for unified communication in the business sector and the increasing commercialization of 5G are two significant factors driving the steady growth of the virtual PBX software market. Other factors include the reduced cost of the software, minimal maintenance, increased efficiency, ability to host remote communication and call collaborations, etc. The essential element is that the cloud-hosted software has gained popularity because of the Covid-19 pandemic as it is the perfect communication software for remote working protocols. Accordion to Ericsson, the duration of voice calls increased by almost 70% during the initial lockdown phase.
These factors, amongst others, have had the combined effect of projecting the virtual PBX software market to expect a valuation of 20.83 billion dollars by the end of a six-year forecast period (2017-2023). It is according to a research report by Market Research Future (MRFR). In addition, the global virtual PBX software market is expected to exhibit a robust 13.2% Compound annual growth rate (CAGR) over the six years.
According to Global Market insights, the size of the virtual phone numbers PBX industry exceeded five billion dollars in 2020 and is projected to grow at over 12% CAGR in 6 years (from 2021-2027). Data Bridge Market Research also projects an annual growth rate of 15.2% by 2027 for the virtual PBX software market. They use a seven-year forecast period to project this growth (2020-2027).
These are just three out of several projections for the market and are very strong evidence that the future of business communication technology rests securely in the development and advancement of virtual PBX software.
Virtual PBX providers allows specific integration of PBX software as per customer requirements, which is expected to fuel demand for hosted PBX by 2026.
This statement by a lead analyst at Fortune Business insights is clear enough to show that, as I've earlier stated, virtual PBX software is the future. It has left behind the traditional pbx system and quickly overshadows other forms of business communication technology. Hundreds of businesses are fast converting to cloud-based systems, and it is apparent that this is a trend that is not likely to slow down or stop anytime soon.
With Our Easy-To-Use Platform, You Can Manage Your Business Call Sign Up 14 Day Trial
On this note, you, too, should begin selecting a virtual pbx provider to provide you with an efficient system for your business communication needs. Several key players in the PBX provider industry make efficient software, but our top recommendation is PBXPlus by 500apps. They have a track record of providing excellent software with top-notch features including IVR and premium benefits to small-scale and large-scale businesses at affordable and flexible prices.
What Makes the Best Business Phone System?
#1
Get unlimited phone lines, IVR flows and minutes and never miss a single call
#2
Improve caller satisfaction while reducing cost with multi-level IVRs
#3
Add call activities and route calls real-time based on the lead owner in your CRM
#4
Respond to customer concerns quickly with voicemail transcriptions
#5
Choose toll-free and local numbers from 48+ countries
#6
Use the REST step to integrate your IVR flow with your database and backend
#7
Bring your favorite provider for the best possible rates ever
#8
Embed click-to-call widget on the website to increase leads
#9
Unbelievable pricing - the lowest you will ever find
#10
Everything your business needs - 50 apps, 24/5 support and 99.95% uptime
Join the SaaS Revolution
All-in-One Suite of 50 apps

Unbelievable pricing - $14.99/user

24/5 Chat, Phone and Email Support