How to Implement An IVR System in Your Business?
IVR systems are used by businesses in various sectors. Find out how to implement one in your business, and the benefits it can bring.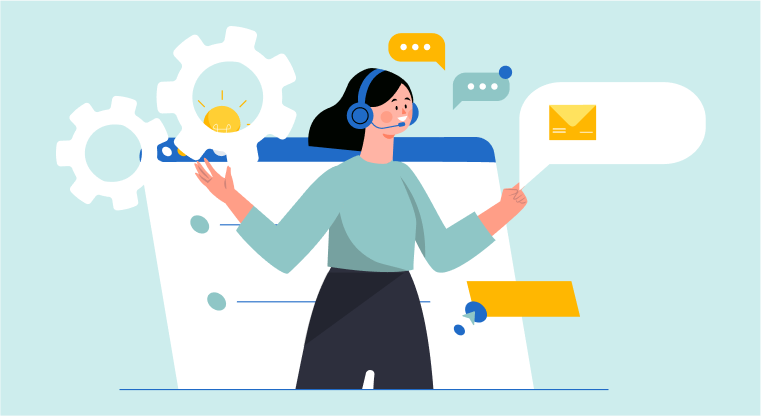 Connectivity is crucial for maintaining a great relationship with customers. With new technologies bridging the gap, businesses can keep great relationships with their customers, irrespective of location. Whether your firm is small or large, responding to customer requests optimally is crucial for maintaining a great relationship.
An IVR system allows you to automate your business's call management and phone calls. Whether the call volume is low or extremely high, it is well-equipped to deliver excellent results. In this article, we look at what an IVR is and why it is suitable for your business. We also describe the three phases of IVR implementation and how you can implement an IVR system in your business.
What Is An IVR system and Why Should It Be Part of Your Marketing Strategy?
An IVR, short for Interactive Voice Response, is a business phone feature that interacts with customers via voice to determine what options or services they need. Using the customer's answers, it takes appropriate action based on these responses. These actions may include:
Directing the Call to an Appropriate Agent
Based on the customer's responses, IVR can determine which department would be best suited to help a customer. It can then redirect the call to an available agent in the relevant department.
Voicemail Recording
Suppose a customer calls when no agent is available to help with a particular problem. In that case, the IVR can ask the customer to make a voicemail. The voicemail is recorded and saved to a secure server or sent to an agent. When they are available, the agent can listen to the voicemail and reply via a call to the customer. The response may be a live call, or a recorded and transcribed response.
Pre-recorded Messages
Businesses can also use an ivr to provide instant help to customers in everyday scenarios. For example, a customer may require guidance on using a particular service or help with an issue. In that case, a relevant pre-recorded message can be played, giving the customer directions on what to do without involving a human agent. An AI-based IVR can also answer simple questions like "When is your business open?", "What services do you offer?" and more. This allows human agents to focus on more complex tasks requiring human expertise.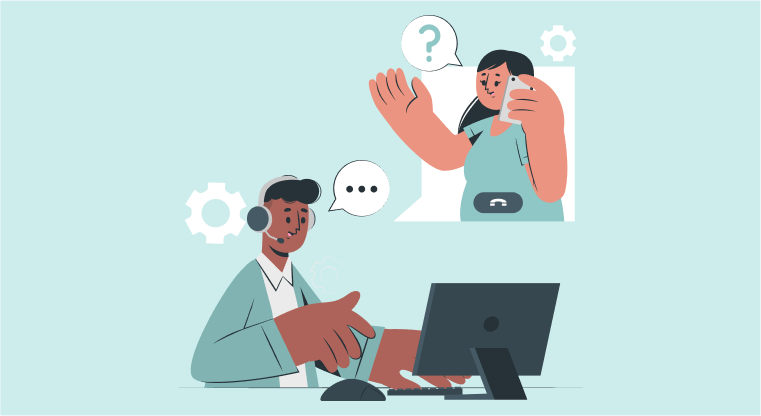 Carrying Out Tasks
As IVRsystem advance, they are better equipped to handle simple tasks. For example, IVRs can take orders, change PIN codes, and manage payments. This reduces the workload on human agents and facilitates quick customer service.
Older IVRs required a customer to push buttons in response to a question from the IVR system. Newer ones come with voice recognition, allowing customers to say what they need and eliminating the need for buttons.
With Artificial Intelligence and Speech Recognition, modern IVRs no longer need customers to use a keypad. Many modern IVRs also have text-to-speech capacities, and they can say out responses to the customer. This way, IVR systems are more flexible, and unique customer data such as account balances, due payments, and other information can be said aloud, providing keypad-less interaction.
Using an IVR system like PBXPlus has multiple advantages for your business in providing consistent customer service. Some reasons why you should consider implementing an IVR at your business include:
Efficient Customer Service
An IVR system helps customers by automatically directing them to the best-equipped agents to help with their requests. Providing customers with the right kind of service they need improves the business's ability to deliver customer service, promoting efficiency.
Boosts Customer Satisfaction
One of the main issues with calling business lines is the long wait periods. An IVR system like PBXPlus does not only serve as an intermediary between customers and human agents; it can also provide instant solutions to customers. By providing prompt responses, IVR systems reduce wait times and improve customer satisfaction.
Cut Costs
An IVR system eliminates the need for a business to hire a worker (or workers) solely to accept and direct call requests. This leads to more savings on the part of the business. Also, with an IVR system, a company spends less on equipment, allowing the business to save on hardware and maintenance costs.
Multiple Integrations
With an advanced IVR system like PBXPlus, you can personalize the customer experience by integrating their call data with other aspects of your CRM module. This ensures that each customer is adequately attended to with each call or interaction with the company.
3 Phases of IVR Implementation Process and Costs Involved
Three crucial phases are involved in implementing an IVR system. They are:
IVR Consulting
At this stage, your business conducts research to determine how best to implement IVR into your business. This research would include feasibility studies, market research, and data analysis to understand what customers need. It also involves studying different IVR system software to determine which would be best for your company. Criteria to consider include features, costs, availability, etc.
Having the right IVR system is crucial, as it enables your business to provide efficient service to your customers. After this phase, you would be able to determine how you'll fit an IVR into your system and the critical features your IVR should have.
IVR System Development
At this stage, your team then creates the IVR for your company. IVR development includes conceptualization, design, development, and testing. While developing the IVR system, ensure that the solutions in your IVR properly address the problems identified in the consulting phase.
One way to develop your IVR is to try coding your own from scratch. However, like thousands of companies already do, it's probably better to use a hosted IVR system and modify it to suit your company's needs. Once ready, confirm that your IVR technology is good enough by running it through multiple tests. Carry out troubleshoots if any problems arise; you want your customers to have a seamless experience using the IVR.
IVR System Implementation
At this phase, you then install the IVR into your phone system. It's a good idea to inform customers just before you implement the IVR, so they can have an idea of what to expect. Carry out extensive monitoring during this phase to understand how the customers' experiences are with your IVR. You can keep improving and fine-tuning your IVR to suit your business needs with your findings.
5 Steps for Successful IVR Implementation in Your Business
The following steps will help you to implement an IVR system in your business successfully: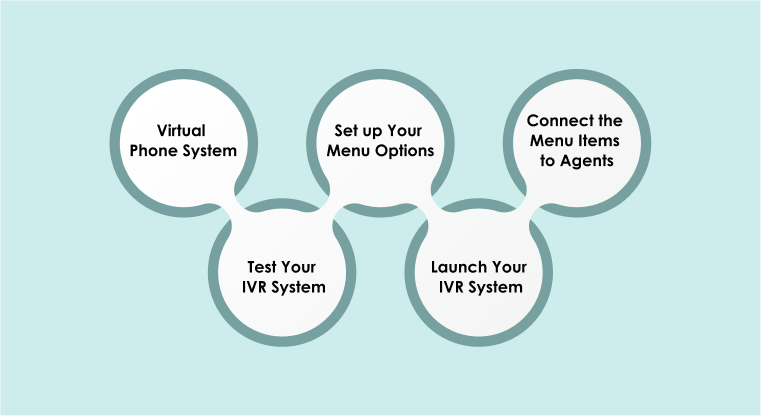 Choose a Virtual Phone System
Several virtual phone systems to support IVR, but not all IVRs will have the functionalities your business needs. Explore your available options, and choose one best suited for your business needs. At 500apps, we recommend PBXPlus, which has tons of features to make your IVR exceptional, from automated call forwarding to voicemail recording and call monitoring.
Set up Your Menu Options
The next step is to set up an IVR menu that best addresses your customers' typical (and atypical) concerns. You should already have this information based on your studies and from analyzed data from customers. Also, ensure that relevant services and operations are included in the menu so that customers can get instant services without always needing a human agent.
Connect the Menu Items to Agents
When your menu is ready, make it responsive by connecting menu items with support staff. Ensure that each item is connected to the correct department so that customers can get the best service on their calls. It's also important to have multiple agents for each menu item, taking advantage of different schedules. This way, you ensure that someone is always on hand to respond to customers.
Test Your IVR System
In this crucial step, ensure that the IVR system works appropriately. Check its efficiency by calling the business number multiple times. If any problems arise, refer them to the technical or development team so that they can fix them. The great idea is to subject the interactive voice response system to multiple rounds of testing, which may include a beta program. This way, you can ensure that your IVR system delivers consistent customer service.
Launch Your IVR System
Once you've tested your IVR system and it works perfectly, it is now ready for launch! Add the IVR to your telephoning system, and watch your business call quality improve. Also, carry out periodic monitoring and evaluation to see how best you can improve the system with time.
IVR Integration with CRM Software and Customer Engagement Strategies
CRM software is crucial for providing a consistent, high-quality customer experience. With an IVR system that integrates with your CRM software, you can automatically create and update customer records, helping agents provide more personalized service to customers. Personalization increases customer engagement and loyalty, allowing your business to become more memorable. When choosing an IVR system, ensure to choose one that integrates your CRM software.
Conclusion
IVR systems optimize the experience of customers with each phone call. By elevating customers' telephone experience, an IVR can boost your business image. With the PBXPlus business phone system, you're assured of excellent IVR service.
What Makes the Best Business Phone System?
#1
Get unlimited phone lines, IVR flows and minutes and never miss a single call
#2
Improve caller satisfaction while reducing cost with multi-level IVRs
#3
Add call activities and route calls real-time based on the lead owner in your CRM
#4
Respond to customer concerns quickly with voicemail transcriptions
#5
Choose toll-free and local numbers from 48+ countries
#6
Use the REST step to integrate your IVR flow with your database and backend
#7
Bring your favorite provider for the best possible rates ever
#8
Embed click-to-call widget on the website to increase leads
#9
Unbelievable pricing - the lowest you will ever find
#10
Everything your business needs - 50 apps, 24/5 support and 99.95% uptime
Join the SaaS Revolution
All-in-One Suite of 50 apps

Unbelievable pricing - $14.99/user

24/5 Chat, Phone and Email Support