With the success we experienced after building Agile CRM, our all-in-one customer relationship management (CRM) software, we started finding even more ways we could help small and medium-sized businesses run like Fortune 500 organizations. As an organization focused on creating productivity apps for growing businesses, it's only natural to be on the lookout for new and better software solutions. The consistent growth that we experienced met with new challenges, including the inability to field all of the phone calls that were coming to our sales team. We needed to find a solution and fast.
The Problem
As a still-growing small business with a need for more robust communications, we weren't in a place to spend an arm and a leg on a new phone system. Plus, we didn't want to worry about future costs as we hired new employees and expanded geographically.
We also needed a phone system that wouldn't take up the valuable time of our IT department or any other employees that could be focused on product development instead. We also didn't want to make a purchase now that would be obsolete in 10 years.
Our search for a better way to allow our customers to get in touch with us also made us realize that our needs were pretty unique. It seemed we were either going to need to pay for a huge bundle of features we didn't need or a small bundle of features that weren't enough. There simply wasn't enough flexibility in the systems we found. As an office that was only open during specific business hours, but with remote employees located throughout the world, we also desired a way to be able to redirect the calls that came in after our office hours. We could hire a receptionist, but certainly not one that would work 24 hours a day! With more problems than solutions, we realized we needed to find a different way.
The Requirements

We determined that our primary requirements were the following:
Use our existing carrier : We didn't want to spend extra money when we already had a communications carrier.

Create our own call flow : With employees all over the office building and scattered around the globe, we wanted to be able to create complex call flows easily.

CRM Integration : Integrating with our CRM was important since we could store all of those sales calls in one place and anyone could access them from anywhere.

Call forwarding : In order to make sure all of our sales and customer service calls are answered in a timely manner, call forwarding was a must.

Scalable : As a growing business, it was very important to us that our phone system would grow with us and allow multiple phone numbers to be added when needed.

Customizable business hours : We wanted to be able to designate where calls land during and after business hours and set what those hours are.

Call tracking and analytics : It was important for us to be able to use this same system to understand our customers better so we could continuously improve.
We realized rather quickly that our requirements looked more like an unattainable wishlist. We could find most features with some solutions, but they were too cost-prohibitive.
The Solution
Once again, it was determined that we should start brainstorming our own solution. The result was PBX+, an affordable virtual business phone system suitable for all growing small and medium-sized businesses that wish to operate like the Fortune 500.
The solution was a comprehensive virtual PBX solution with unlimited extensions, call forwarding, CRM integration, and more that can help teams be more productive and enhance the customer experience. Employees would be able to handle calls from anywhere, ensuring customers always hear a voice on the other end of the line.
Part of the solution includes an automated call flow that can reduce overhead costs while simplifying customer call handling, allowing teams to focus on providing high-quality services. Employees are offered the ability to transfer or forward calls easily or send them to voicemail when necessary.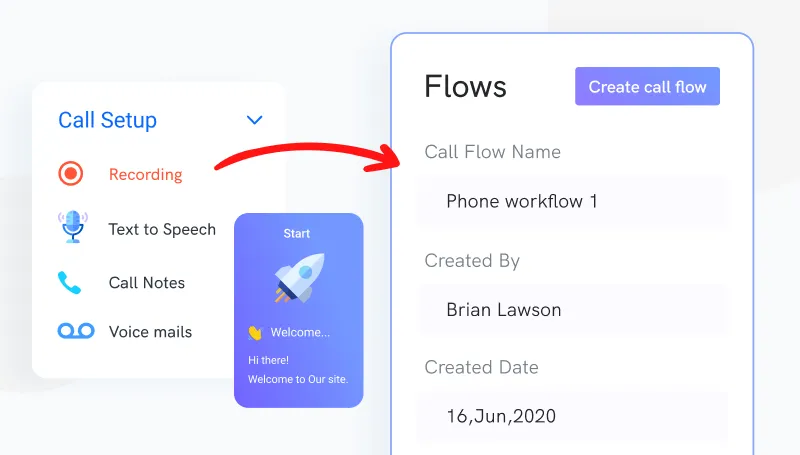 With its robust call management features, PBX+ allows organizations to manage how customers navigate through their virtual phone systems to connect with employees. It's easy to make personalized experiences for customers and making it easy to navigate the phone system. Plus, call flows can be set up as either parallel or round-robin ringing to ensure someone will always be available to answer customer calls.
Part of the PBX+ solution includes the ability to track the call flows so organizations can make educated decisions based on the choices customers make. The most and least effective menu options and pathways will always be known and taken into account.
The solution also includes the ability to use an existing virtual phone system carrier, saving time and money on implementation. Plus, unlimited phone numbers allow for call flow configurations that will work for any business' unique needs.
PBX+ also can also integrate with CRMs so the information provided by callers will be known to all call handlers for future needs. Call and purchase histories will be available to anyone that takes a customer's call from anywhere.
Both employees and customers will be able to benefit from the PBX+ virtual business phone system with its various features and functionalities. Try it today with our 30-day free trial and experience all of the benefits of the system yourself!