How to Improve Call Center Efficiency?
Improving call center efficiency in a business is a great way to satisfy and retain customers. But you can't improve on something you don't know the level yet. Therefore, you have to measure the efficiency of your business call center, and this task will be stressful, slow, and expensive if your business does not already use a virtual phone number on a virtual PBX software. Then, have your call center agent review users' feedback and satisfaction rates and highlight the areas that require improvement.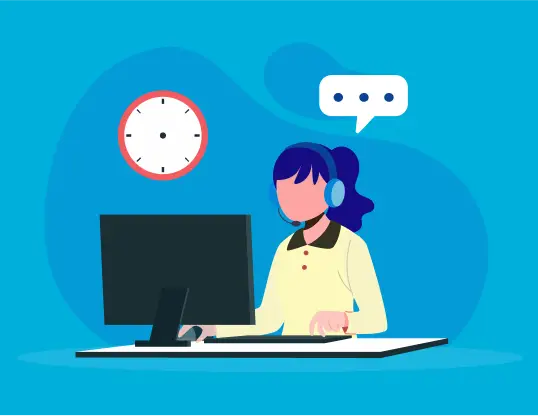 Try to imagine that you placed an order for an adjustable room TV carrier online while packing into your new apartment, your package arrives, and you open it and begin assembling the components only to find out that one leg is missing. You then set out to call the vendors, and after the IVR directs you to a customer service agent, you have to wait hours before you are attended to. That deal would probably be the last time they will enjoy your patronage. That is the product of poor call center efficiency.
Regarding this instance, if you are a business owner, you may want to learn what it takes to improve the call center efficiency of your business, now knowing how hurtful it is to your customer. However, you can not improve on what you have not measured, so we will first take a rundown of what call efficiency is and how it can be measured before progressing to call center efficiency improvement and the methods to be applied.
What is Call Center Efficiency In Business?
Call center efficiency refers to the actual execution of customer support via the business call center. It can be referred to as the measure of the performance of the call center of the business by analyzing its impact on the customers it is designed to serve. Moreover, call center efficiency depends on the phone system applied by the business in communicating with their customers.
The call center efficiency exploits the ratio of the effort and resources invested in the call center by the business, compared with the resultant impact on the welfare of customers, other organizations, and callers who use the business phone system. Measuring the call center's productivity is very important, significantly as it can help the business owner or manager highlight the underlying challenges in the customer interactional services of the organization.
What are the Advantages Of High Call Center Efficiency?
Whether your organization uses a virtual phone number and a pbx software, it is still important to measure and improve the performance of the call centre team and the equipment used in the facility. This article is meant to give you a precise understanding of what you have to do to measure and improve the impact of your call center and its services on your customers and the public at large. Before going into that, let's digest the essence of an efficient call center's three critical roles in an organization.
I. Offering better customer experience:
Customers always want their effort to be appreciated duly. When a customer calls to either place an order or gets information about goods and services, they always want to enjoy maximum good customer service as much as they were actually present in the store. This maximum grade service is only guaranteed in a call center with high efficiency and is much easier when using virtual PBX software. Virtual PBX software and phone numbers enable businesses to customize their call center to deliver a higher grade of customer experience, which is very beneficial.
II. Integrated multi-channel customer interaction:
Convenience and delay eradication are important aspects fulfilled by an efficient call center. Modern phone systems like virtual pbx software enable businesses to employ various communication channels and integrate them to work hand in hand. Instead of customers' calls queuing to be attended to in turn, they can easily continue their inquiries on other channels like emails, SMS, social media, live chat, video, and a lot more.
III.Optimization of productivity:
A business will thrive more and generate more revenue if its call center performs efficiently, retains old customers, and ideally receives new customers. Customers are more likely to stick where the communication experience is more reliable, even if they have other options of getting identical products from another brand. This sets them above the competitors and grants them a higher productivity level.
How and Why do Businesses Need to Measure Call Center Efficiency?
You may be wondering how you can measure the efficiency of your business' call center, and this can only be done by gathering customer feedback. Sending out surveys to customers after every call via text, email, or the ivr system can assist you in gathering some valuable call center efficiency metrics. These feedback generations aim to determine how satisfied the customer is with your call service, the ease at which the services were rendered, and the likelihood of the customer referring your company to others.
Call center efficiency measurement techniques all depend on the phone system in use. Using phone numbers on virtual PBX software will help your business easily program the feedback collation system and also record call data more efficiently. Virtual PBX software solutions have tools that support the programming of IVR systems to conveniently gather user data from interactions and build customer profiles to generate a better overview of the impact of the call services on the customers.
Data-based call center efficiency metrics provide more advanced data and insights to assist the business owner or manager in continuously identifying and addressing areas that require attention in the business call center. It helps to check whether customers are satisfied with the duration and quality of service rendered by the IVR systems. These metrics gathered can help you understand how to improve your business' call center efficiency to satisfy the customers more. Better customer experience is worth the effort applied as it will result in higher customer retention rates and higher chances of referrals.
How to Improve Call Center Efficiency?
In recent years, businesses have begun to use phone numbers, one of the services provided by virtual PBX software solutions, to interact with their customers and other external business callers. Technology has granted businesses access to quick and reliable call services using virtual PBX software to facilitate these interactions.
Beyond eradication of inefficiency and delay in customer-to-client interaction, the use of phone numbers and virtual PBX software has dramatically eased the processes involved in improving call center efficiency. Below, we have put together five essential tips to help you boost the efficiency of your business' call center using virtual PBX software.
I. The Call Centre Team:
As a manager, understanding the lapses in your business' call center requires you first to observe your call center team. You first have to know the strengths and weaknesses of the team to coach them better. For your team to perform better, you have to motivate them individually and as a team. Understanding the team makes it easier for you to make each team member grow in the areas they are inclined to thrive in. This individual growth is bound to reflect on their overall performance as a team as each agent will invest all available resources towards the call center's success.
II. Utilize Spare Time:
Generally, letting free hours slide amounts to increase operational cost in every aspect of the business. Agents indeed need free time in order to work efficiently. Still, in the call center, it is essential to use some of their free time to reflect on their performance on every call and develop themselves to serve the customers better. The call center is a very delicate aspect of business as it represents the business to the public.
For instance, if a prospective customer calls for inquiries, the call service they receive determines the initial mental picture they imagine about the business and its products. In most cases, it determines whether or not they will move forward to place an order.
III. Encouraging the Team Members:
Improving the call center efficiency also depends on your impact on the team as a coach. You are meant to understand and direct your team correctly for better performance. Utilize the spare time not spent on customers to develop agents professionally. Impact knowledge and skill in them and watch them deliver even better customer support at their duty post.
A reliable coaching method involves gathering customer feedback and using the data to show the team how to serve the customers better. You can also offer real-time feedback while they are working with the use of Virtual PBX software. This allows them to work on their terms but with your support.
IV. Increase the Reach of the Callers:
Ted Smith, the head of market insights at Zendesk, highlighted an important role played by the call center in the minds of customers. He said, "Customers don't think about a company's size when they're interacting with support. They expect to be able to reach out on the channel of their choice and to get their issues resolved efficiently." This goes to say that customers are more concerned about the activities they can carry out on a single phone call than the size of the business.
Using a reliable virtual PBX software like PBXPlus presents businesses with the added advantage of redirecting calls easily. In a situation where a caller demands to reach out to a department if calls are not channeled to that department, it becomes challenging to serve the customer perfectly.
V. Adopt Automated Systems and Integrate With Other Relevant Business Systems:
An essential call center efficiency improvement tip is the integration of your business phone system with third-party business systems to expand the reach of the call center and make their work more efficient. The use of a virtual phone numbers and virtual PBX software makes the integration process seamless and more effective.
Automated virtual PBX software systems allow customer self-service using phone numbers, IVR, and chatbots software integration. Furthermore, automation assists the team in preparing for interaction by predicting possible customers' replies to emails and calls. Even better, it uses customer data to interact with customers and satisfy their needs for an improved customer experience.
Practicing the call center efficiency improvement tips outlined above will generate better results when sandwiched with the right coaching. When communication is integrated seamlessly, each customer interaction becomes a lot more efficient.
Conclusion:
Measuring call center efficiency and analyzing the metrics can help provide insights, which in turn assists the business owner or manager in identifying and addressing the areas that require amendment in the business' call center. This measurement and analysis are more accessible and the results more reliable in a data-driven call center. For instance, knowing the duration customers spend waiting for calls can help you redirect your ivr system to satisfy the customers.
Since the call center efficiency level directly affects customers, it is important to invest lots of effort in getting it right and improving it. The most reliable and affordable method of providing call center services for your customers is by employing the use of excellent virtual PBX software such as the 500apps' PBXPlus.
What Makes the Best Business Phone System?