How to Improve Call Automation for B2C Industries?
Call automation requires the use of call automation software or contact automation tools. These tools have been developed to perform the call-related tasks which used to be manually done by humans.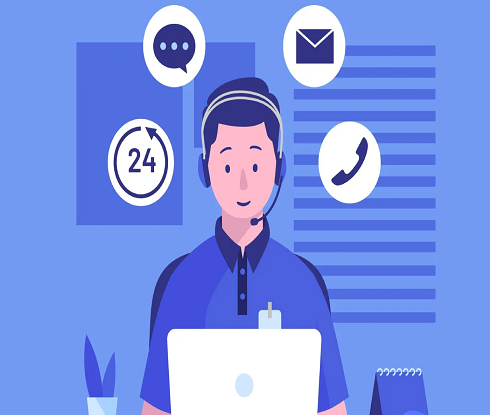 The business organizations established to sell products and render services to the immediate consumer need to put these consumers on their priority list. These consumers are regarded as the customer and also the soul of business. The business organization must set out to achieve satisfaction as it is essential to the growth and development of the business.
One of the ways to achieve customer satisfaction is to enable these customers to have direct access to your customer representatives or customer support either to make an inquiry, lodge complaints, or drop their opinion regarding the goods and services that your business is rendering.
All business activities have been automated without leaving out the call or phone system. Call automation allows the telephone system to interact with callers who are existing customers or potential customers without input from the human workforce. The only human in call automation is the caller, the customer placing the call from their end. It is essential to know that call flow automation is part of the customer service activities.
In a report by McKinsey, "29% of customer service agent duties have the potential to be automated with technology and software."
Call automation requires the use of tools called call automation software or call automation tools. These tools have been developed to perform the call-related tasks which used to be manually done by humans. They include call forwarding, multiple call handling, real-time call monitoring, customer support, call masking, voicemail, multi-store solution, live panel and a host of other call-related tasks.
Also, Virtual PBX can be used to manage phone-related tasks. It is also a call automation software privately held by a business organization and offers PBX technology and tools to manage phone tasks within the office environment. A Virtual PBX can be regarded as a landline telephone that uses cloud-based software.
5 Critical Helping Points to Improve Your Business Organization's Call Automation System
1. Create a company directory
For business organizations with call automation tools, it is crucial to have a call directory that allows you to direct your callers to the proper personnel or desk. Speaking to a general representative or the receptionist is time wastage. A directory should be created to allow customers to have direct access to who or where they need information from.
A company directory should contain a dial extension that forwards the caller to the particular personnel or department they wish to interact with. You should also create an audio message that includes the complete list of your organization's employees or departments. Whenever the caller hears the department they want to speak to, they click on the number that will connect them directly to that person.
For example, your company directory dial number could be #press one for the sales department, #press two for customer service, etc. Depending on the number you wish to use and where to assign the numbers to.
2. Adopt a call menu
A call menu is likened to an auto-attendant or a virtual receptionist. It is one of the valuable tools in call automation software. The automated call menu is the first point of contact for a caller, and it exchanges pleasantries with the caller; it directs them to a department or person that can help them after listening to their complaints and give other quick information or helpful tips.
Most times, the call menu can give the needed information or valuable tips, and you as the caller do not need to speak with a live agent or customer support. It could be that the caller needs to know the working hour in an organization or the nearest branch office to them; the call menu can provide this information in real-time.
3. Menu option for voicemail
Another key helping point in call automation is to create a separate menu option with your call automation tool that the caller can select to be sent directly to a voice mailbox.
You should make it so simple that with just the click on a number, the caller gets directed to the voice mailbox directly; they do not have to wait for the helpful general tips or the process it takes to ring before your call gets answered and eventually transferred to the voicemail box.
4. Email notification and reminder
For small and medium-sized business organizations with few call-handlers, it is essential to have a corporate email address where voicemails from callers automatically drop.
The email address could be multiple or different for each department or section. Ensure you enable notifications for them so that as soon as the voicemail drops, you get to act on them without keeping the caller waiting.
Email is the best because of its ample storage and easy-to-use features. With its notification, you will hardly miss a message, or when you need to go back and check for a previous mail, you do not have to stress your employees.
5. Operation/ working hours
For business organizations that use the call automation tool, it is essential to have a fixed working hour and make it conspicuously known to your customers. This applies to business organizations that do not operate on a 24hour basis or that their customer support does not work round the clock.
If the operation hour is from 8 am to 6 pm, your call automation software can be designed only to receive calls at those hours, and when it is 6 pm, it stops taking calls. This will ensure that calls will not be forwarded to your phone system at odd hours; instead, the callers will have the option to drop an audio message or leave a voicemail.
For a business organization, you may not combine all the helpful tips mentioned above, but ensure you adopt one or two of these key helping points to make the best use of your Virtual PBX and improve the experience of your callers or customers trying to reach your business. By doing so, you are also making the job easier for your employees.
In this tweet by the AILA community, IBM launches a call center automation referred to as Watson assistant capabilities to make a difference in customer service.
For this article, it is essential to highlight the best call automation tools and call automation software which a business organization can incorporate into their call-related tasks.
5 Best Virtual PBX Tools to Serve The Customers Better
1. PBXPlus by 500apps
PBXPlus is a pbx tool developed by 500apps with advanced features such as unlimited extensions, call forwarding, customer relationship management, call routing, call retention, call logs archiving and a host of others.
This call automation software gives you access to multi-level menus, unlimited call duration, music-on-hold, voicemail transcription and archive, outbound dialler, and conference rooms. With its visual drag and drop designer, you can build both simple and complex call flows.
PBXPlus allows you to integrate this virtual pbx tool with customer relationship management software, telephone and network providers, and REST APIs. It also has advanced call automation features to arrange call flows and bring about employee and customer satisfaction.
The pricing plan is fair compared to its numerous advanced features, and with $14.99, you have unlimited access to this Virtual PBX tool. It is used by over 30000 users across the world and has over 1000 positive reviews.
2. Hubspot
Hubspot is a powerful and easy-to-use call automation software that can be integrated with third party apps and other advanced automation tools that help generate insightful reports to improve customer service consistently. This call automation tool enables shared email inbox, live chat software, and self-service, integrated with Aircall to provide phone support.
Hubspot has over 100,000 users spread across 120 countries around the globe. The call automation software has a free version that allows you access to a free trial. To be eligible for the advanced features, you will be charged $45 per month for the starter package, $360 per month for the professional package and $1200 for the enterprise package.
3. Aircall
Aircall is a virtual PBX tool that allows you to dial prospects, contact leads and close deals in real-time with quality call features. Over 6000 companies have adopted this call automation tool in their business activities.
This call automation software has advanced tools that enable the customer support or representatives to dial multiple existing and prospective customers simultaneously while surfacing vital information directly in the call interface.
Aircall features include customer relationship management integrations, call tagging, call coaching, call routing, call disposition, auto dialer, call transfer, click to dial and a host of other advanced features.
4. Five9
Five9 is a call automation tool that has been designed with advanced and intelligent algorithms that lists the waiting callers and ensures that the next caller is available as soon as a call agent is general. Five9 enables you to manage your call list, marketing campaign and monitor calls across all your agent desks.
This virtual PBX tool enables you to automate the dialing process, skip-no- answers or callers, eliminate busy signals while talking to other customers, and has adjustable dialing modes.
Five9 features include; agent interface, alerts & escalation, call log archiving, retention, auto-dialer, campaign management, call tagging, call scripting, automated routing, call recording, and call scheduling.
5. CloudTalk
CloudTalk is a cloud-based call automation software built for outbound sales teams and inbound customer service teams. Over 2,500 companies use this Virtual PBX tool as a result of its quality call resolutions and best-rated telephony solutions
CloudTalk can be integrated with an already existing organization's helpdesk, customer relationship management, and e-commerce software. This Cal automation tool gives you access to phone numbers of internet users in over 140 countries and has over 70 smart calling features.
These features include; access controls and permission, By-extension reporting, call center management, call logs archiving, call duration & routing, call scripting, auto-dialler, audio and video conferencing.
Conclusion
According to research by Oracle, 80% of businesses are planning to implement AI-powered customer service solutions and automate their customer support by 2020
Call automation is similar to all other business activities that used to be done by humans but are now substituted with technology-powered tools. These tools work faster and are more efficient. They save time and labor costs. Specifically, call automation tools to make it easier to handle the call and phone-related tasks in a business organization.
PBXPlus is an excellent call automation software for business-consumer interaction. It is the best Virtual PBX tool out there, with numerous advanced features that are easy to use.
What Makes the Best Business Phone System?