15 Best VoIP Solutions to Try for Your Business in 2022
Today, voice over internet protocol (VoIP) services offer a low-cost and high-tech alternative to traditional public switched telephone network (PTSN) solutions. These are the best VoIP solutions to look out for in 2022.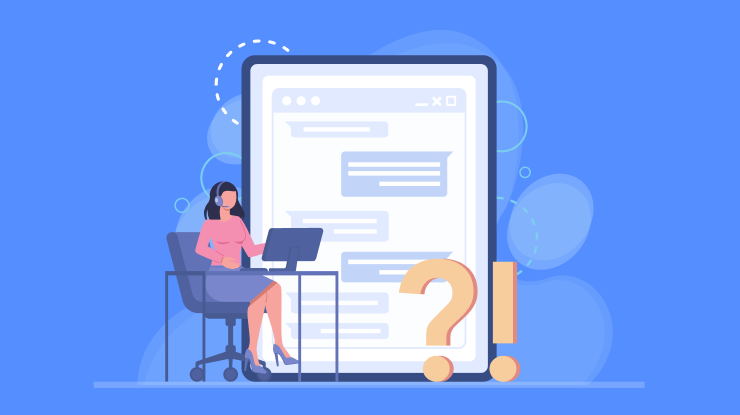 With working from home becoming increasingly more common, VoIP solutions are more vital than ever. With that in mind, we scoured the market to find the best VoIP solutions, narrowing it down to these 15 business VoIP service providers.
The 5 Best Business Phone Services for Financial Institutions
Voice over Internet Protocol (VoIP) is one of the world's most popular communication solutions. Boasting flexibility, scalability, and a host of useful features, it's no wonder than VoIP has become so ubiquitous.
VoIP converts incoming or outgoing calls into digital signals that transmit through the internet. This means that you can easily receive and make business calls around the world using a softphone, desk phone, or a personal device.
Future-forward business VoIP solutions are being embraced by organizations for their internal and external business text messaging and telephony needs in today's work from home economy. Of the 34% of workers who are estimated to be working from home, many will not go back. A survey of senior finance leaders by research firm Gartner
Of the 34% of workers who are estimated to be working from home, many will not go back. A survey of senior finance leaders by research firm Gartner found that 74% plan to shift some employees to remote work permanently. https://t.co/4N0MEN8hOo via @voxdotcom

— Mary Kaylor, SHRM-CP (@SHRMKaylor) May 28, 2020
found that 74% plan to shift some employees to remote work permanently.
For any company, business communication is paramount in defining customer experience and building trust. Like popular keynote speaker, Stephen R. Covey said, "When the trust account is high, communication is easy, instant, and effective."
Voice over Internet Protocol providers now offer a myriad of useful business phone system features, but it's crucial to truly consider which capabilities would best serve your industry and phone service needs.
What is Voice Over Internet Protocol (VoIP)?
To put it simply, VoIP stands or Voice over Internet Protocol is a technology that helps you transmit phone calls over an internet connection.
What Should You Look for in a VoIP Solution?
There are a few basic things that you must look for in a capable VoIP solution:
CRM Integration – Robust CRM integration with VoIP will allow the business to efficiently drive sales while achieving a higher degree of customer satisfaction.

Mobile Application – iOS and Android applications will enable your agents to stay connected on the go and never miss a call.

Robust Customer Support – Look for a VoIP provider that offers robust customer support the setup and after-sales to help you keep the system running efficiently.

Analytics and Insights – Having access to customer insights and call data analytics can help you enhance call support and chalk out a better sales strategy that is data-driven.
The Best VoIP Solutions for 2022
As businesses today continue relying on voice as an essential method of communication between brands and consumers, VoIP solutions are more important than ever. However, with a host of options available, it can be difficult to choose the right vendor for you. Here are our top picks for the best VoIP solutions in 2022.
Here's a list of some of the best VoIP solutions, along with their key features, benefits and pricing.
1. PBXPlus by 500apps
With this VoIP solution you can automate call processes, optimize team productivity, and improve customer experience with the virtual phone system trusted by thousands of businesses.
It has all the features that you need to level-up your virtual phone system. Get access to unlimited extensions and much more. Design your call flow effortlessly with the drag-and-drop builder with just a few clicks and access your virtual phone system from anywhere.
Key Features
1. Virtual PBX: With the ability to integrate your existing CRM into your virtual phone systems, you have all of your customers information at your fingertips.
2. Call Flow Automation: Open up more time for your employees and reduce overhead costs by call flow automation processes for your customer calls. Allow employees to prioritize their calls and manage their workday so that they can provide high-quality service to your customers.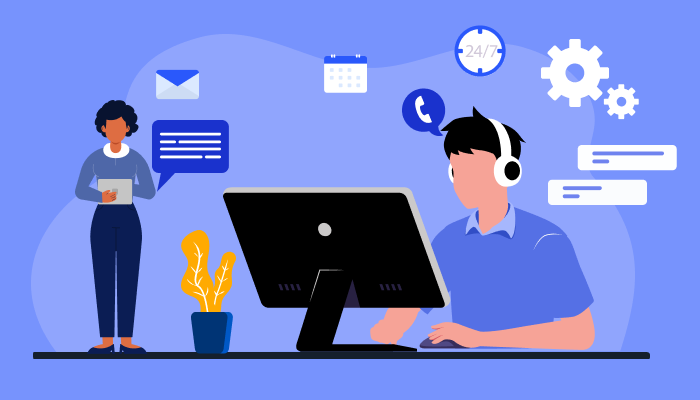 3. Virtual Numbers: Add new numbers, change call flows and use existing numbers, so your customers are sure to reach you every time they call.
4.Call Analytics: Easily track your call flows to help drive revenue through improved call processes and menu options. Analyse each step the customer takes during calls to determine what options entice your customers whenever they contact your business.
5. Call Forwarding: Configure the call flow to allow for automatic call forwarding so that employees can spend their time building long-lasting customer relationships.
6. Business Voicemails: Play welcoming voicemails when customers reach you. Thus, improve customer experience and engagement.
7. Outbound Dialing: Make outbound calls with confidence with an in-built outbound dialer and robust tools that make reaching out to customers easier.
Pricing
Starts from $10.00/month per user and you can get unlimited access to the all-in-one, integrated suite of apps and all their features from $50.00/month per user. There is a 14-days free trial.
2. Grasshopper
Grasshopper is one of the most popular VoIP solutions (and for good reason). It offers a robust and fully-functional VoIP solution on any device.
Plus, it provides excellent features for mobile businesses and freelancers that don't need a landline for business communications.
Key Features
Unified Messaging: Easily manage calls, texts, and emails from a single point to keep track of all useful information.
Gmail Integration: No need to buy a business suite. Easily link your existing Gmail account for all the information.
Pricing
Its paid plans start at $26 and go up to $80. They also offer a 7-day free trial.
3. CloudTalk
CloudTalk helps you create a virtual network phone framework for customer service and sales teams efficiently. The tried and tested VoIP solution has provided services to over a thousand clients and offers robust VoIP solutions.
This tried and tested VoIP solution has provided services to over a thousand clients and offers robust VoIP solutions.
Key Features
Personalization: CloudTalk allows you to create personalized greetings that you can play based on different situations.
Speech To Text: CloudTalk's speech recognizer efficiently converts calls into text transcripts that can be searched easily in recordings.
Pricing
Its paid plan starts at $15 per month billed annually and goes up to $35 per month billed annually.
4. RingCentral
RingCentral offers a reliable VoIP solution and is most famous for its robust network in the US, Europe, and Asia. The VoIP service comes with an extensive feature range to meet different business requirements.
RingCentral offers a full-service VoIP solution that is perfect for small businesses.
Key Features
Audit Trail: This feature allows easy tracking of changes made by any user in the phone system. It offers a searchable account history to resolve critical issues easily.
Video Conferencing: It is a video conferencing software tool with the ability to conduct a meeting with up to 500 people.
Pricing
Its pricing plans start from $19.99 per month per user and goes up to $49.99 per month per user.
5. Nextiva
Nextiva offers a perfect balance of essential features and reasonable pricing. Moreover, this VoIP solution offers robust lines to handle multiple calls efficiently and reliably.
It is one of the best VoIP solutions for businesses that are looking for reasonably priced VoIP services with decent features.
Key Features
Automate Customer Data: Put all your customer data at one place automatically, including call data, account history, and notes, among others.
Manage Customers: Easily manage all customer interactions to keep the context after the conversation is over.
Pricing
Its pricing plans start from $30 per month but could vary depending upon the number of users you are selecting.
6. Ooma
This VoIP solution offers affordable VoIP services that are most suitable for small and medium-sized businesses and freelancers. On top of that, it also provides robust, scalable solutions that can easily support your growing business.
Ooma is best suited for small businesses and freelancers.
Key Features
Enhanced Call Blocking: Stop telemarketers and spammers from calling your business through automatic call blocking.
Multi-Ring: Leverage this feature to ring multiple devices, including your VoIP phone and smartphone app to never miss a call.
Pricing
It offers two pricing plans, including $19.95 and $24.95 per month per user.
7. Bitrix24
Bitrix24 offers free VoIP service and works with both call centers for outbound and inbound calls and as an internal PBX system. The best part is that it provides an efficient solution for remote teams to help them communicate efficiently.
It is one of the best VoIP solutions for small businesses and remote teams that need to stay connected constantly.
Key Features
CRM: Bitrix24 is the only free VoIP service that also offers a fully-featured CRM for its customers. Hence, you can easily identify and connect clients with relevant people in the team.
Private Cloud: Leverage its Private Cloud Suite to have highly secure and private conversations with high customization.
Pricing
Bitrix24 is available free of cost for a team of 12. The paid plans start from $17 per month and range up to $139 per month.
8. Verizon VoIP
Everyone knows the name of Verizon for its mobile phone and fiber optic internet service in the USA. But it also provides a reliable and efficient VoIP solution for end-to-end business telecommunication needs.
This VoIP solution offers one of the best service packages for mid-sized businesses.
Key Features
Auto Attendant: Verizon offers the facility of a virtual receptionist that allows customers to select the person they want to talk to.
Hunt Group: This feature automatically transfers calls from one line to another until someone in your office picks up the calls of customers.
Pricing
The paid plans start from $94 and go all the way up to $249.
9. SIP.US
SIP.US is a low cost yet reliable VoIP solution. It is capable of working efficiently on any broadband connection and comes powered with unlimited connection plans. Moreover, SIP.US is easy to set up, and you can get started right away.
SIP.US is a reliable option for businesses looking for a low-cost yet robust VoIP solution for their business.
Key Features
Tier-1 Redundant Network: It leverages only Tier-1 upstream service providers to route your business' SIP traffic for the best quality redundant network and voice experience.
Own Bandwidth: It provides the flexibility to businesses to select the bandwidth supply of your preference including Cable, T-1, DSL or Metro Ethernet.
Pricing:
It offers a simple pricing plan of $24.95 per month.
10. AVOXI Genius
AVOXI offers an affordable and highly efficient virtual VoIP solution. The software is capable of efficiently managing all your business communications requirements through an intuitive and web-based contact center.
This cloud-based VoIP solution is efficient for business that are looking for agility, flexibility, and low infrastructure costs.
Key Features
Automated Call Redistribution: Route your call to the most eligible agent efficiently without any confusion.
Call Queues: It is capable of setting up an unlimited number of call queues while managing advanced features, including queue callback, custom greetings, custom ring rules, and more.
Pricing
Its Genius Contact plan and Genius Enterprise plans cost $25 and $50, respectively. You also get a free trial.
11. Blueface
Blueface is a VoIP solution that is capable of efficiently handling all the configuration of the cloud PBX phone system and handsets. Moreover, it enables businesses to focus on their core capabilities by providing a unified communications platform.
This VoIP solution is most suitable for call centers, SMEs, and large enterprises.
Key Features
Dedicated Support: It deployed a team of experts for dedicated customer support round the clock.
Unified Communication: It leverages its lightweight and multi-tenant UC Platform for easy-to-setup that offers all-in-one features along with secure carrier services.
Pricing
You can't access the pricing plans on the official website. Instead, request quote-based pricing by contacting their customer representative.
12. Freshcaller
Freshcaller is a VoIP solution that offers services to enable its users to have contextual conversation sans any hardware or maintenance costs. Moreover, it helps you monitor live calls and maintain call recordings for future references.
This VoIP solution is a great offering for small teams and startup businesses.
Key Features
Real-Time Dashboard: It comes equipped with a centralized dashboard. The system enables the VoIP administrator to add or remove phone numbers, teams, users, and other required customizations via a real-time call analytics dashboard.
Call Masking: To protect the interests of your business, Freshcaller comes equipped with call masking. It shows a proxy phone number in place of the original number as per your preference.
Pricing:
The paid plans start from $19 and go up to $59 per agent per month.
13. 3CX
3CX offers a robust and reliable VoIP solution. It is most suitable to meet the advanced needs of businesses, including modern contact center features, mobility, and status, among others. Moreover, this VoIP solution comes with a smooth and efficient setup that you can integrate seamlessly into the system.
Key Features
Mobile Apps: Leverage its Android and iOS mobile applications to carry your office extension to any location. Make or receive calls from anywhere and also quickly transfer the call to your colleague.
Unified Communications: Easily integrate and enable several communication methods within the business process, including calls, SMS, video and call conferencing, Live Chat, and email.
Pricing
Its starting price is $250 that gradually increases based on simultaneous calls requirement by the business.
14. MessageBird
MessageBird offers a smooth and efficient VoIP solution to engage with customers by any channel through a single platform. It also allows easy integrations with the business within minutes through a few lines of code.
It offers an end-to-end VoIP solution to businesses looking for a robust platform to engage with customers via voice, SMS, and WhatsApp.
Key Features
Scalable APIs: It comes equipped with auto-scaling APIs that allow businesses to scale faster and more efficiently.
No Code Solutions: Leverage its powerful dashboard tool to map the journey of customers that earlier required extensive coding.
Pricing
It offers a free trial version and a pay-as-you-go model.
15. JustCall
JustCall is an easy to set up VoIP solution for businesses. It offers excellent features and highly reliable service. The best part is that you can easily integrate the software and start within minutes.
This VoIP solution is best suited for call centers and customer support teams.
Key Features
Voicemail by Email: It helps you forward the unanswered calls of the customers to a voicemail whose link is directly mailed to the agent for easy access.
Appointment Scheduler: Easily share an attractive appointment scheduler with potential customers or web visitors to schedule an appointment or a call.
Pricing
Its paid plans are available at $25 and $50 per month per user. You can secure a discount by buying the annual plans.
Conclusion
Digital service providers and VoIP solutions present an excellent alternative to traditional solutions. They deliver cutting-edge business phone service with powerful VoIP phone options that brands need to survive in a landscape dictated by convenience and accessibility.
The best business phone system solution for you will depend on your business needs. Hence, you need to analyze your business needs thoroughly to decide upon the features you need. You might also want to compare the prices to find out an option that offers the best value for your money.
PBXPlus is the business phone system solution chosen by thousands of businesses across the world. With a lot of helpful features in one easy-to-use, nicely-priced virtual phone system solution provider, PBXPlus makes communication with customers seamless and enjoyable.
What Makes the Best Business Phone System?